The following analysis shows a REAL set up that was sent to members of the exclusive club only 4 months back and you can see how Elliott Wave Analysis helped to earn a return of over 80%.
As I often tell my members, Elliott Wave Analysis helps us to assess the probability of a move happening in the desired direction. We can also reasonably estimate the magnitude of the move, should it unfold in the anticipated way. Armed with these two inputs, you will have an edge that the average trader doesn't have. You can now vary the size of the bet depending on the risk-reward trade off. I had offered the following analysis as a bonus for those who had taken another trade, and that other trade returned over 8% within 2 weeks. Those who held on to that other stock would have made over 45% before a correction set in. We will discuss that other trade set up in a few days. Let us now look at the Elliott Wave Analysis of Genesis Healthcare Inc (NYQ: GEN)
This first chart of Genesis Healthcare is a screen capture taken a few minutes ago. The rest of the analysis is available for you to download in the link below.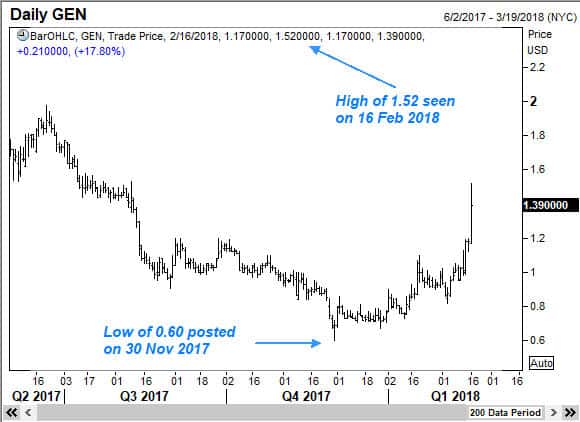 You will see on reading the full report that Elliott Wave Analysis helped us to prepare for a dip into a buy zone and although it spent several days building a base after bouncing off that low on 30 Nov 2017, it eventually started moving up. That is the edge you get by using Elliott Wave Analysis. Of course, there are scores of such examples in this blog, and the technique I use is explained in my Elliott Wave book "Five Waves to Financial Freedom". Below is the link for you to download the full report of how Elliott Wave Analysis helped us make another smart investment.