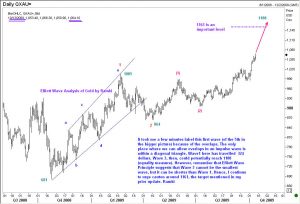 Almost a month back, I wrote in these pages that Gold will stay bid until it reaches at least 1069, and if sentiment remains strong, we could even see 1161. At that time, the precious metal was trading at 1016. Today, Gold has reached a record high and met that first target at 1069, and has edged back to 1057 as I am writing this special update for you.
If you are an investor, or a trader in Gold, it is vitally important for you to know which direction the metal is heading in the medium term, and estimate how far the move could travel. There are few better tools available to you than a sound knowledge of Elliott Wave Principle. With wave analysis, you will also be able to see any error in judgement much sooner than otherwise. Unfortunately, it takes several years of patient study before one can become deft at calling turns. Even a battle scarred veteran like me makes mistakes. So a beginner has to be really careful. Still, it is worthwhile to study the wave principle carefully.
Today's chart shows a leading diagonal triangle in Gold. This is a rare formation but, given its position in the progression, the outcome was clear that we would get a smart move higher. Now that we have reached the first target at 1069, it is time to consider whether Gold still has room on the upside. My assessment is YES. If we get a quick dip to around 1040, one should continue to buy. There are more supports near 1020. From one of these supports for Gold, we should expect at least a retest of the highs. Once we get past 1069 by more than a few dollars, a move to 1161 should not be too difficult. However, new trades at these high levels should be for smaller size because of the increasing risk of a sharp reveral once the move is finished. At this point, I would like to share with Gold traders a key point in wave analysis. When a five wave move is finished, the ensuing correction will not only correct the fifth wave, but the entire cycle of five waves. Hence, it will travel a greater distance than either wave 2 or wave 4 in the prior cycle. Wave 4 was 349 dollars. So our correction will be at least 349 dollars. It will serve you well to keep that in mind.
Finally, is it possible that Gold keeps going down, now that we have met the first target? Of course, anything is possible! But given the current sentiment in the market, I think we will remain bid for several days, and even if you buy at 1020-1040 window, you will get enough opportunities to exit at a profit, even if that profit is not going to make you as rich as you will be if gold reaches 1161. In any case, I will try and alert you if something changes while we wait.
Best of luck! Ramki
Update on 29 August 2019:
If you love my book FWTFF, then you will love my online course even more! That course will take your understanding of Elliott Waves to a whole new level, because it teaches you how to APPLY what you learn in my book to actually make profits in the markets. Here is the link: https://elliottwaves.com