General Electric  (NYQ:GE) has rallied today by over 4.5%. But this rally was anticipated by Elliott Waves as far back as 22 June 2020. At that time, the stock was trading about the same levels as today, i.e. at $7.04. In an analysis shared with my member, I had suggested that we wait for a dip to $6.67 or max $5.99 and buy that dip for a significant rally. Elliott Wave analysis was suggesting either a wave C or a 3rd wave from one of those levels. Where do you think it went to?
General Electric dipped to $6 on 31 July 2020 and rallied by 11%from there. But that was not the real rally!  We got one more attempt to the downside, making a low of $5.93 on 11 September 2020 and that marked the end of this leg of the bear cycle.
The Elliott Wave chart below shows my rationale for anticipating a big up move in General Electric. If you are interested in learning how to spot such fantastic low-risk entry points, you should look up https://elliottwaves.com. I have published my online educational program that teaches you how to really USE Elliott Waves to profit consistently.
General Electric rally as anticpated.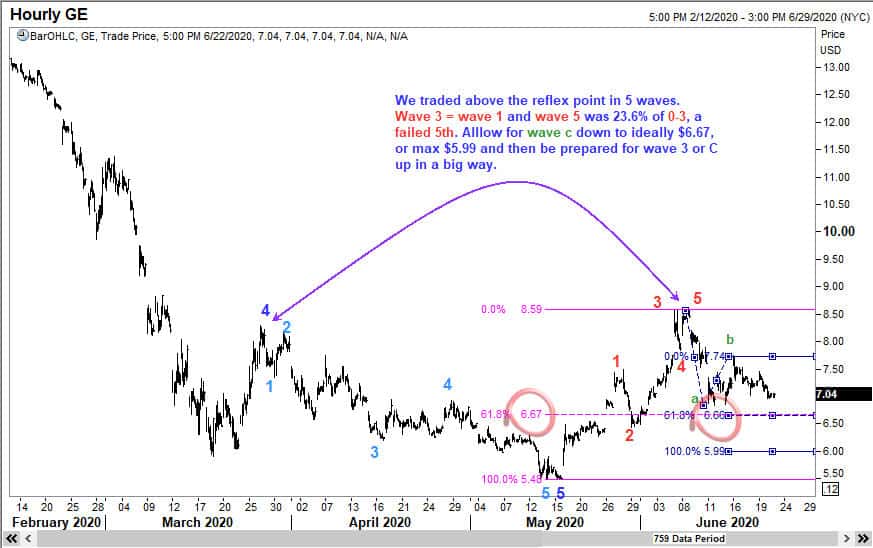 If you like to see another trade on GE, where I anticipated a rally of 17% using Elliott Waves, it is here.
And my signature online ElliottWaves program is at https://elliottwaves.com/