Whether you are in Indonesia or Norway or Cape Town, the examples posted in this blog will help you to get better at using Elliott Waves. The concept is the same. The example may come from a different market, but that doesn't diminish the value of the lesson. So let's take a look at Mahindra & Mahindra.
I was approached by a member of the Exclusive Club on 30th June to do an analysis of this stock. THis is what I presented him. Take a look. Best to right click and open each chart in a new tab!
Start with the weekly chart where we can locate a significant low around 2002. You can see that 4 major waves have already been posted, and we are in wave 5.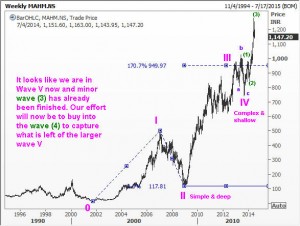 I have also suggested that we are in minor wave 4 inside the fifth wave as minor wave 3 was already finished as well.How did I figure that out? Here is how. I looked at the daily chart to see the pattern and relationships.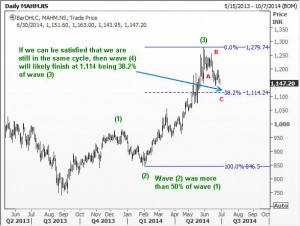 As outlined in the first chart, I was pointing the member towards buying the stock as we complete the fourth wave. It seemed reasonable to expect supports around 1114. The next chart also supported this idea.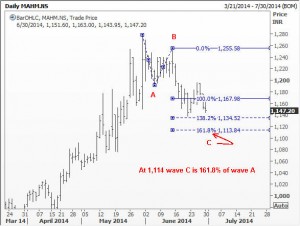 However, my approach has always been one of 'safety first' and that required me to consider what else could be going on, and where I might be making a mistake. Also, if I made a mistake, can I safely parachute out without crashing with the stock?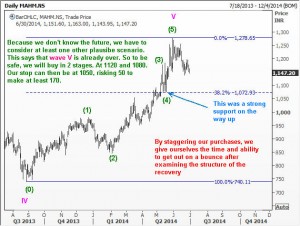 So you see that I have defined my risk tolerance, as well as my profit objective. How did I arrive at the profit target? Simple. This is explained in my book Five Waves to Financial Freedom as well.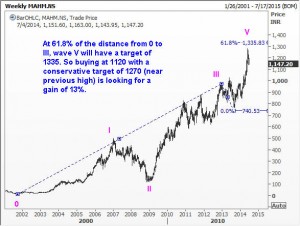 And what do you think happened to this stock?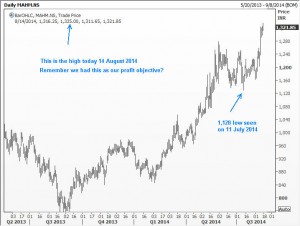 Well folks. That is nothing but the power of Elliott Waves at work! Needless to say this member is very happy!
You might ask me two questions. First, we had a buy level of 1120 and the low was 1128. So whats the big deal? Well, the big deal is this client is dealing big! And he is not stupid enough to wait for the last few cents to buy. To him, what mattered was the next direction, and the size of the next move. He is a trader and investor, not someone who idly watches prices to check if it reached the target or not. The second question is have we reached the top in M&M? i.e. should we exit our position here, or perhaps consider selling short? Well, that is a question you can answer yourself by looking at the internal waves of wave 5 within the fifth, and also considering whether we will get an extension etc etc..besides, I don't know what my client is thinking either. He hasn't told me or asked my views yet!
Remember, this blog is only trying to teach you Elliott Waves and its application. There are no trading tips here. Enjoy.