You have seen hundreds of real-life examples in WaveTimes that illustrate the edge that Elliott Wave analysis offers traders. Here is one more example of that edge, in the form of an idea that I had shared with members of the exclusive club some seven months ago.
Sangamo Therapeutics, Inc., formerly Sangamo BioSciences, Inc., is a clinical-stage biotechnology company. The Company is focused on translating science into genomic therapies that transform patients' lives using the Company's platform technologies in genome editing, gene therapy, gene regulation and cell therapy.
The first Elliott Wave chart below shows Sangamo Therapeutics Inc has completed a three-wave correction below the $3 level, following which we saw a sharp rally. This was the first clue that made me take notice of this stock.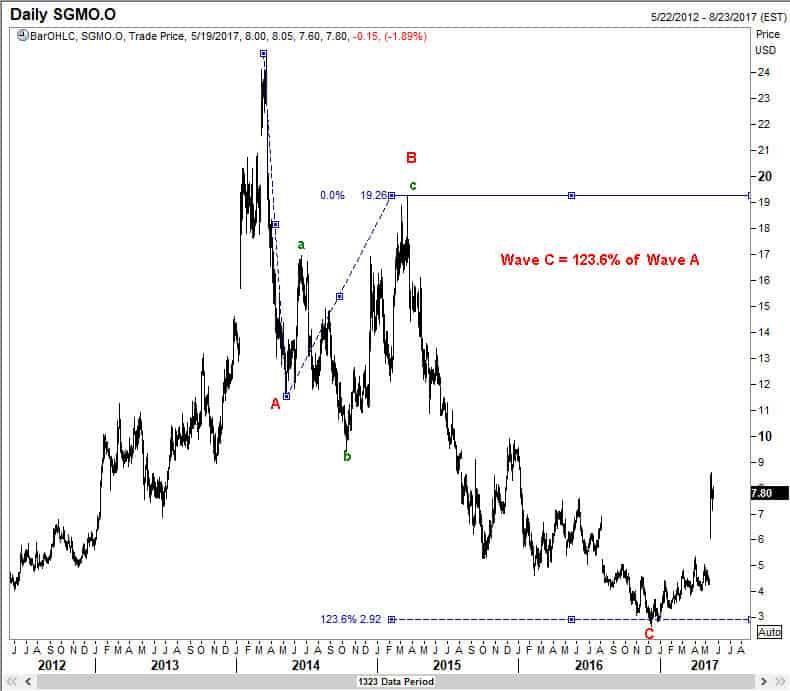 A detailed analysis of Wave C down is presented next. You can see the harmony within the sub waves. Remember, all C waves will be made up of 5 sub waves, and they will usually render themselves to the same sort of analysis as an impulse wave.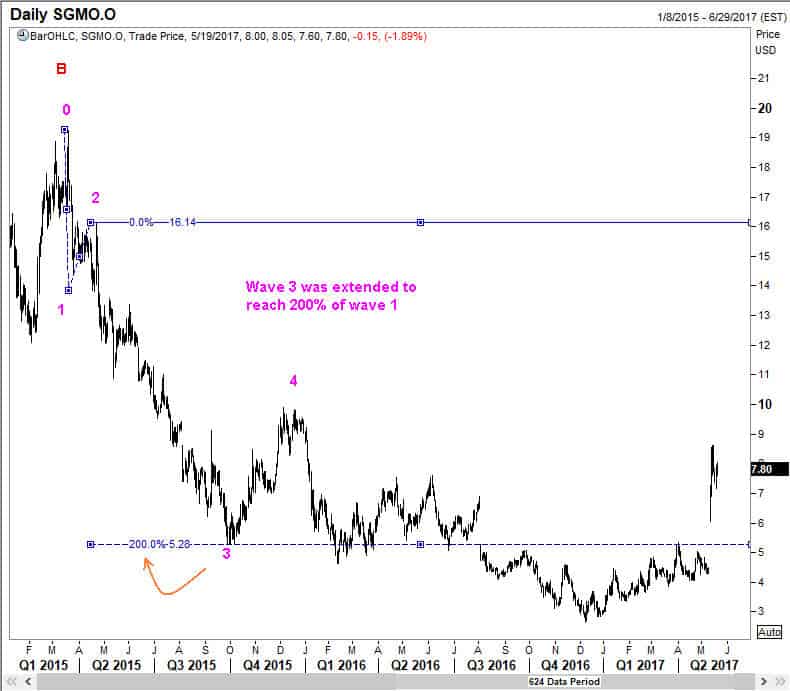 Next we will see that the fourth wave recovered exactly to the 38.2% retracement of the third wave.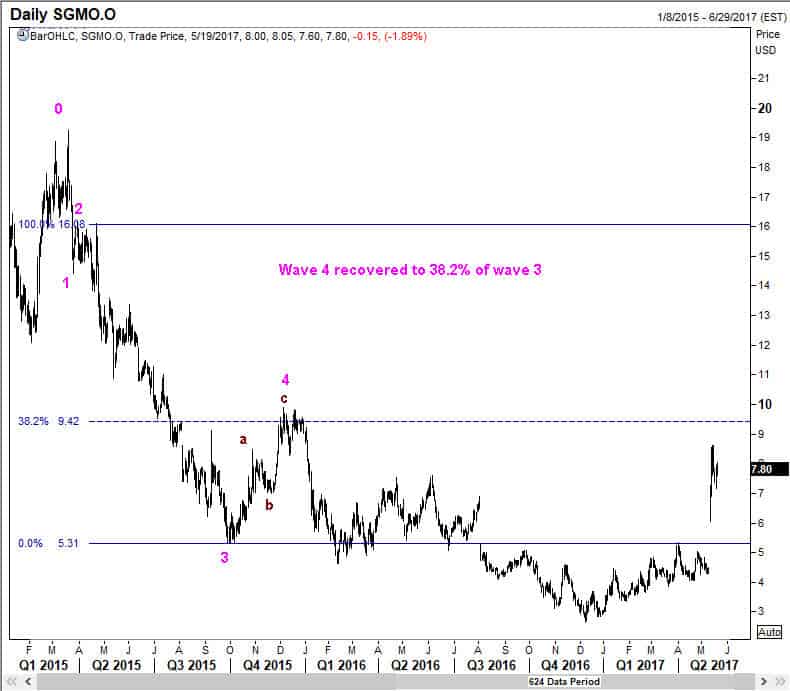 And as explained in my Elliott Wave book, "Five Waves to Financial Freedom", we can anticipate the end of wave 5 in a 5-wave sequence by computing a Fibonacci ratio of the distance traveled from the top of wave 1 to the end of wave 3, and then subtracting that result from the end of wave 4. In the following chart of Sangamo, you will see that wave 5 of the Wave C finished exactly at 50% of the distance from the top of wave 1 to the end of wave 3.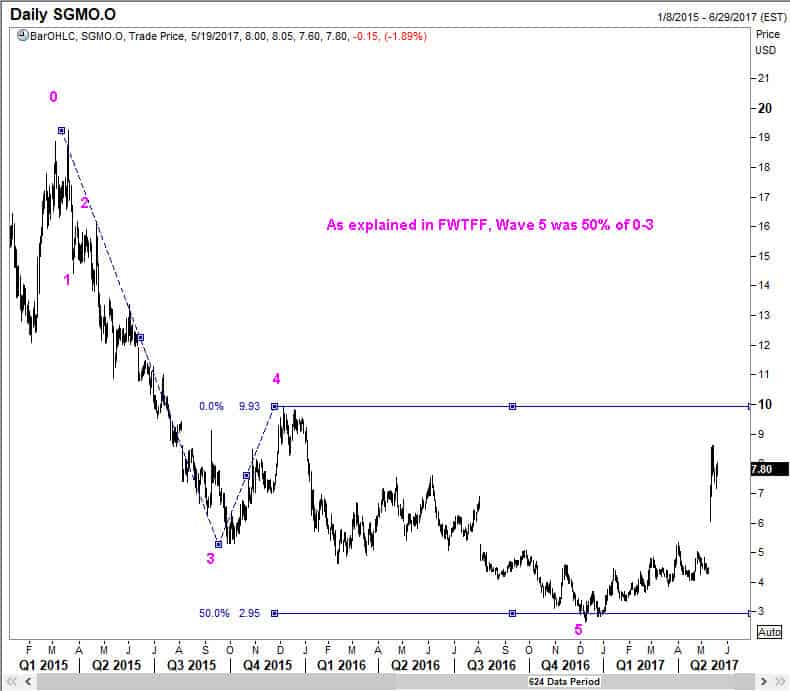 We will now turn to looking at the rally that started off from the $2.65 low of Dec 2016.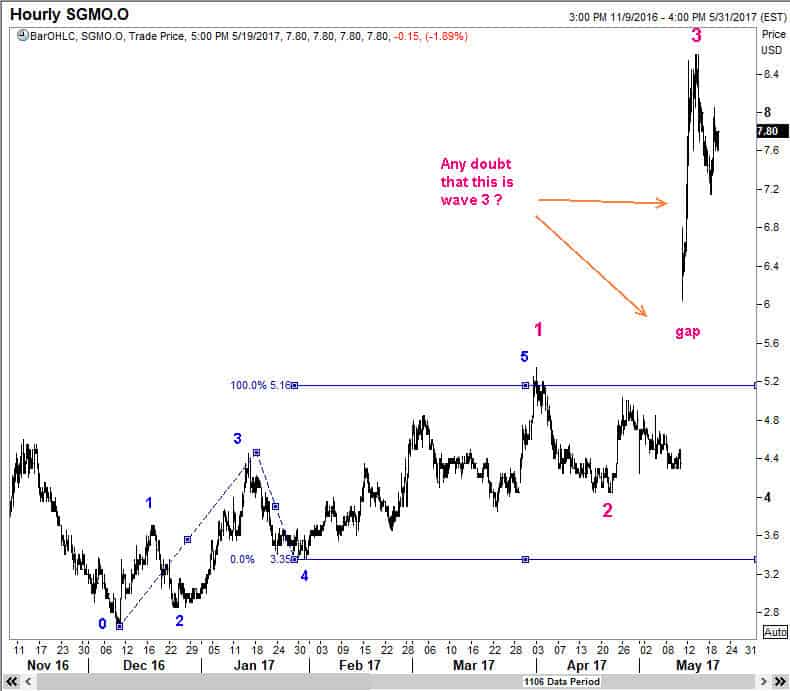 Next we see where the third wave of this new bull phase presumably ended. As you know, a third wave often travels to 161.8% projection measure of wave 1. This is what has apparently happened to Sangamo stock price.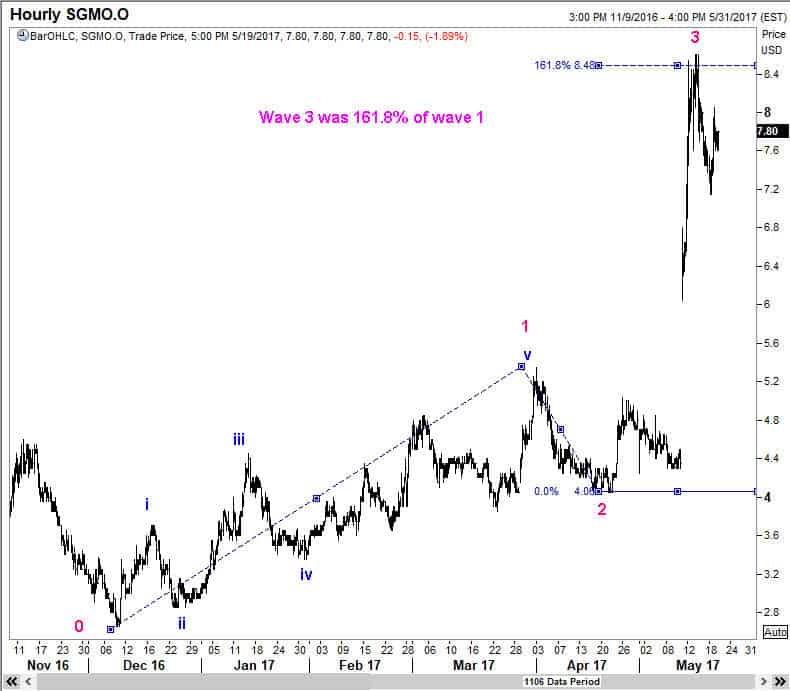 We then proceeded to determine our strategy of where to buy for the next rally, which will be wave 5. (At the back of my mind, I am always keen to be open to the possibility of an extended third wave!). I shared a few additional charts to members showing the possible ways that this wave 4 correction could develop.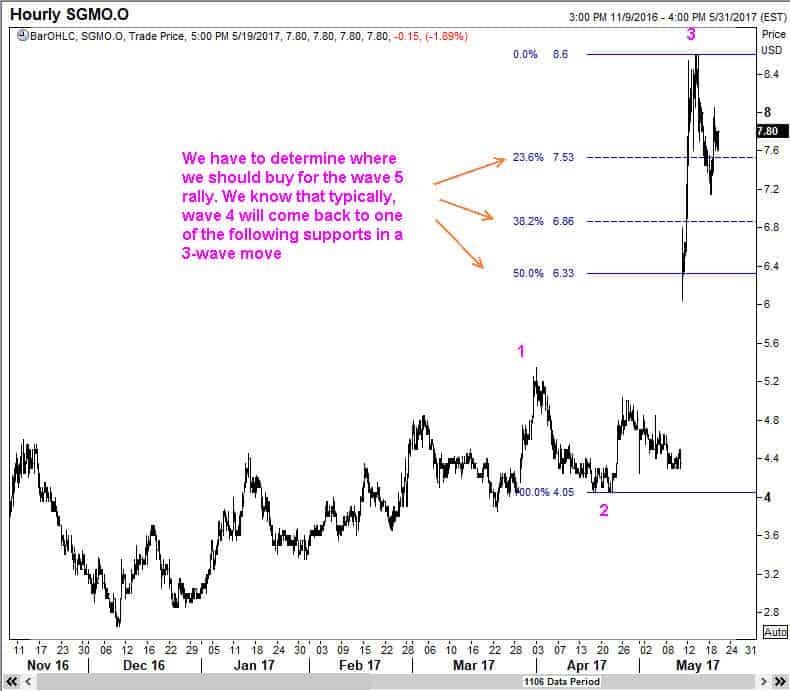 Here is one chart that spells out the plan of action. I hope you take note of the fact that I don't profess to know the future. Rather I am spelling out a strategy that will keep the risks low for my members, while playing out the edge that Elliott Wave analysis offers to us traders.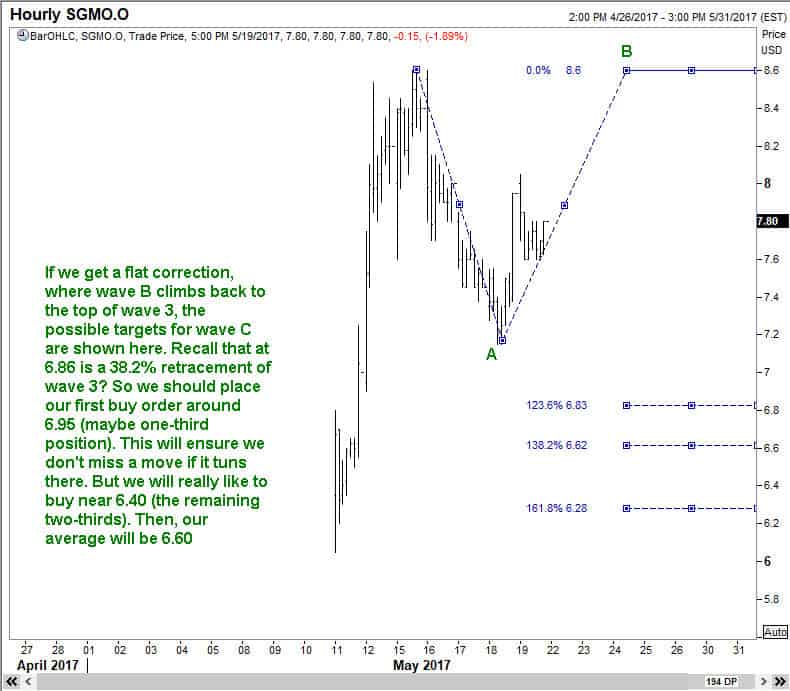 I will present one more chart that I sent my members to give you a feel of how I operate in an environment of uncertainty. Quite simply, I look at different possibilities with an open mind, and then determine what would serve us best.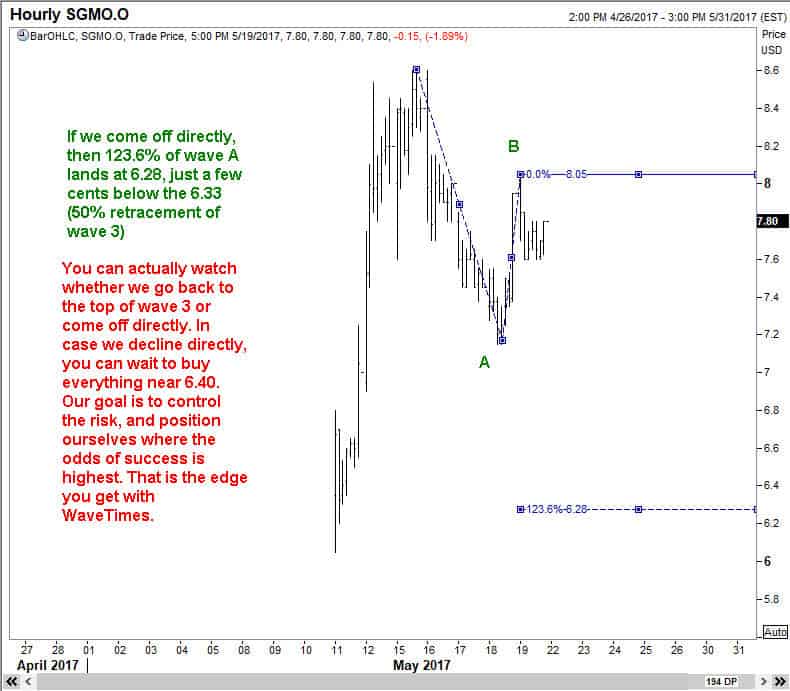 I had even suggested a stop loss at $5.25, and said we were looking to make at least 30%. But guess where it went !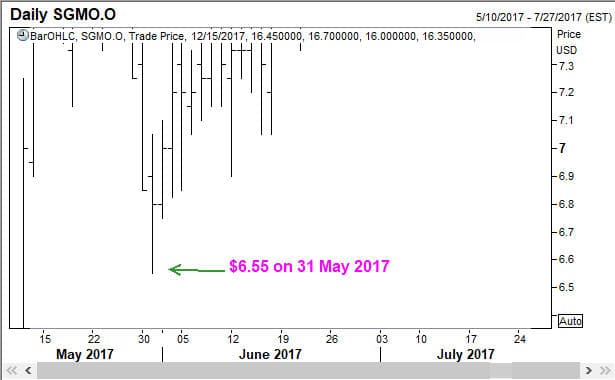 That is one part of the story. Here is the more interesting part. Here you see the power of Elliott Wave Analysis, nay, the edge that Elliott Wave analysis gives traders.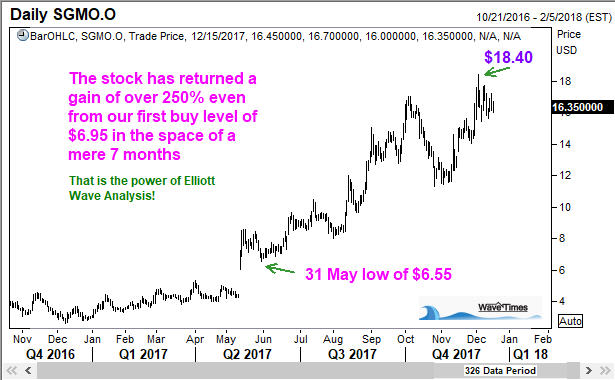 I hope you enjoyed the above presentation. If you would like to show your appreciation of this work, please share with your friends over the social media like Facebook, Twitter etc. That way, you will also be introducing the Elliott Wave approach to your friends. And if they would like to read the much-loved Elliott Wave book, here is the link for that too: "Five Waves to Financial Freedom"