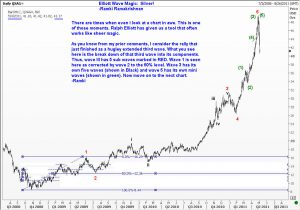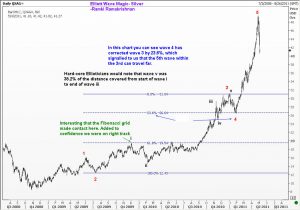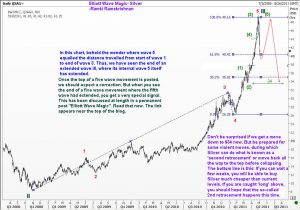 The recent sharp swings in Silver has caused consternation among traders and investors alike. What is the outlook for this metal?
In the last Elliott Wave Analysis of Silver, posted on 24th April, we saw a case made out for a test of the $50 level. It reached 49.51 and boy! whatever happened there is a trader's nigtmare, especially if he was caught long! In just 4 days Silver has lost over 18%. Could this have been anticipated? What can we do from here? Where is Silver going in the medium term? These questions are uppermost in the minds of traders. Let us address them one by one.
If you were using Elliott Wave Analysis, then you would have had anticipated a top near the $50 level without too much trouble. (We had actually done that in this blog). However, I did not warn you that the top was already in for the short term because I am not watching Silver on a daily basis. Look at the first two charts shown here. When the extended fifth wave covered a distance equal to the distance travelled by waves 1-3, any serious trader would think of taking profits. What is more important is the fact that any correction that follows the completion of an extended fifth wave is expected to be BOTH sharp and deep. This phenomenon has been covered extensively in this blog (see Fifth wave extensions can make you RICH!).
What can Silver traders do from here? First of all, be prepared for a move down to the $34 level. That level is the 2nd wave of the extended fifth. Will we get there directly? This is not so easy to answer, but there are supports at 40.10 and 39.70. There is a reasonably good chance for a bounce from either of these levels, but lookout for selling to emerge again around 44.60. Only above 45.60 will I breathe easy if I was caught long above 49! Yes, it is that serious, buddy.There is always some hope that we will get the so-called 2nd retracement of the extended fifth wave, a move that can take us back to the top of the move before a collapse happens. But we cannot rest on hope. We need to manage any open positions with care. So keep an eye on the resistances mentioned above.
What is the medium term outlook for Silver? As I said before, I am currently working on the paradigm that we have just finished the 3rd wave, and the anticipated dip to $34 area will be the fourth wave. Once that correction is finished, we should look for a fresh move higher. That rally might run out of steam near the $50 again if there are not enough reasons for the commodity run to carry on. This blog will surely update you on how to trade that rally when it starts. For the time being, though, let us concentrate of navigating the down move to $34 without getting killed.
Update on 29 August 2019:
If you love my book FWTFF, then you will love my online course even more! That course will take your understanding of Elliott Waves to a whole new level, because it teaches you how to APPLY what you learn in my book to actually make profits in the markets. Here is the link: https://elliottwaves.com