This article discusses the Shanghai Stock Index and the Reflex Point. It was originally published in WaveTimes on 27 March 2012. Yet, what you learn is of great importance.
In order to be successful in our investment activity, we should spend the required time to analyze the stock/index/commodity etc that we want to invest in. Once you identify what you are interested in, the next thing to do is to figure out what is a good price to get involved. Elliott Wave analysis will help you here to some extent.
In my Elliott Wave book, Five Waves to Financial Freedom, I have discussed the concept of Reflex Point. We will now use the Shanghai Stock Exchange Index and relate it to a Reflex Point seen in October 2011.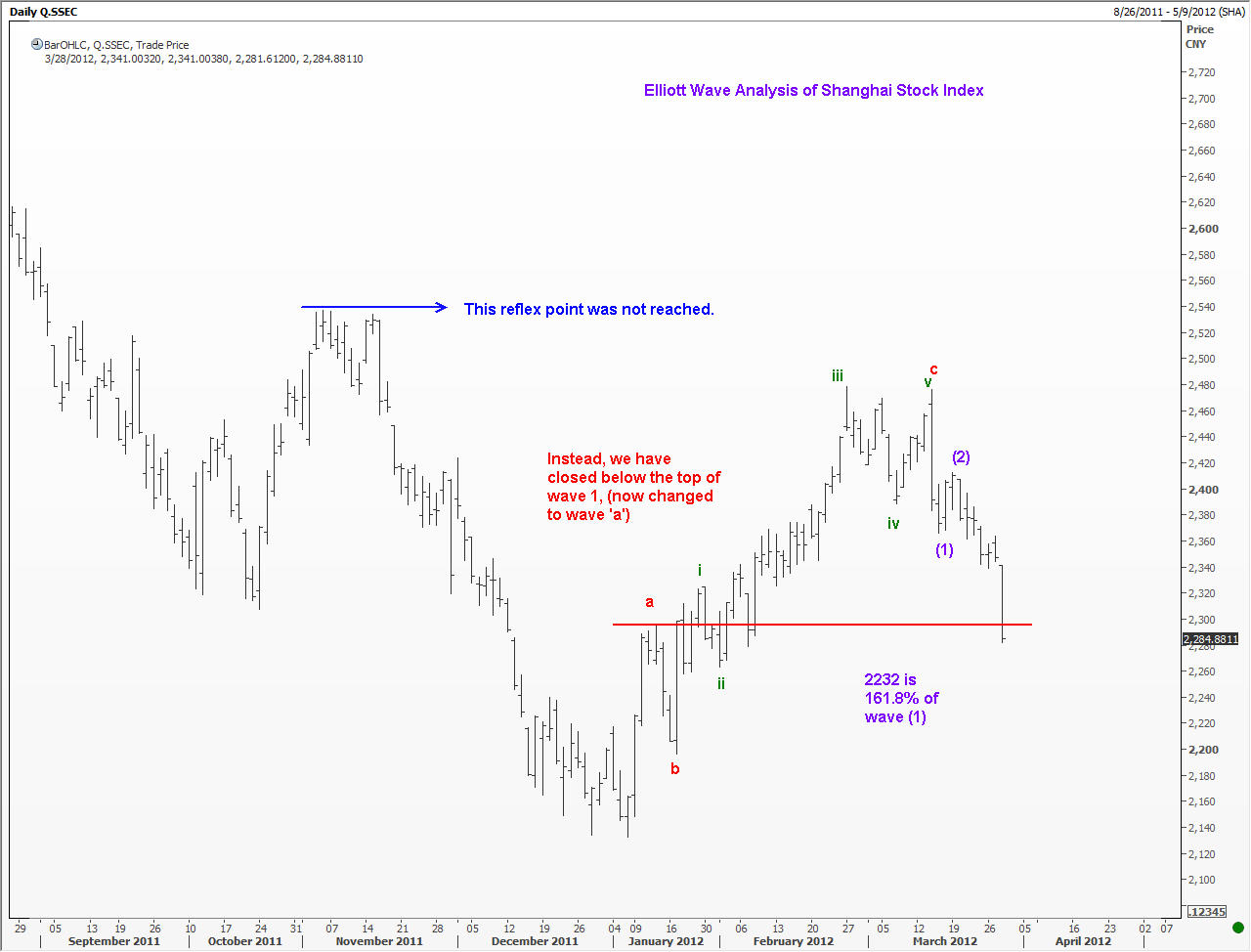 In a prior blog post of March 2012, when the index was rallying from its lows, I pointed out the reflex point of October 2011. "If we now get a move above the reflex point in five waves, then we can be more confident of buying (in stages) from a 50% correction because any subsequent rally will be a third wave in the progression. This is 'how' we should really be using Elliott Waves. To plan ahead, and be aware of when the odds shift in our favor. The right plan and an ample supply of patience to wait for those sweet spots will reward you handsomely".
The key point above was a requirement to move past the reflex point. That will confirm the recovery was indeed an impulse wave worth risking money. Once the reflex point was crossed, we will still wait patiently for a 50% correction before buying. This was the plan. In the meanwhile, we came with up tentative labels that will alert us should something go wrong. So I proposed calling the first move up as wave 1, and said that we should not come below that level.
Guess what! The index has closed below the top of wave 1, effectively sending all the bulls to McDonald's to become a value meal. Because we are using Elliott Waves the way it should be, we managed to neatly sidestep the whole chop, i.e. we avoided the bull trap. Even if you have only been a spectator, the lesson is very valuable. The scenario we just witnessed in Shanghai could happen in any other instrument and in any other market! From that point of view, what you have seen here is a lesson in real time. Enjoy!