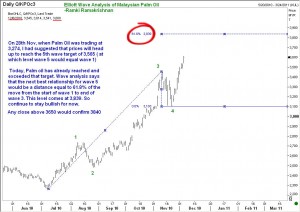 Palm Oil was trading at 3,265 on 29th November when I suggested that we will move to 3,565 as a fifth wave. That target for the benchmark February futures contract for Palm oil on the Malaysian Derivatives Exchange has been reached and today we saw prices reach a high of 3,614.
Elliott Wave analysis of Palm oil suggests that if we exceed the equality measure to wave 1, then the fifth wave will head towards a distance that is equal to 61.8% of the entire move from the start of wave 1 to end of wave 3. Thus, we now revise our upside target for Palm oil futures to 3,840, a move that will be confirmed on a close above 3640. So traders should continue to remain bullish for Palm oil until we approach the said levels.
Sure there are fundamental reasons that are driving the prices higher. Among the main reasons often cited are heavy rains caused by a La Nina weather event that have reduced oil-palm yields in Indonesia and Malaysia, the top producers. La Nina has also caused drought that curbed South American planting of soybeans, threatening global edible oil supplies. However, when we eventually reach the above targets, traders should be aware of the increasing chances of a topping out of prices to occur and a correction to commence. Such a correction will take Palm oil prices down, all the way again to 3100 area. But we will discuss that when we can confirm the fifth wave is finished.