After the Pound broke past the resistance at 1.5157, there was little to hold it back. The target appeared to be 1.5615/20 levels, and the attached two charts will testify why I felt like that.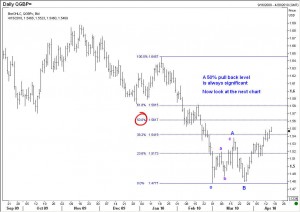 In fact, I had even emailed some of the old faithfuls this morning that the time for the bulls may be running short. However,  economic data in the form of consumer confidence has dealt a blow and we are already seeing a lot of selling and a test of 1.5360 is not far away.  In any case, if we get back to 1.5610 levels for any reason, there is a
 valid reason to take a punt on the short side, as always with an affordable stop.