I would like to start by pointing to this link dated Septermber 27, 2009, where I had reiterated the bearish call for Sterling Pound, GBPUSD. Today, I was shown a research report from Morgan Stanley where they are going short the Pound here at 1.4850 with a stop at 1.5100 for a move down to 1.3500. That downside objective rang a bell 😉 , so I decided to take a fresh look at the Sterling charts. I have decided to publish two charts for your benefit.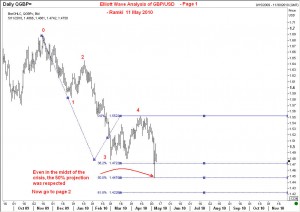 The first chart shows the down move from 1.6880 area is currently in its fifth wave. Thus, we are in the last wave down in the current cycle. However, we have to remember that any one impulse wave in a sequence will tend to extend. The question is, will this 5th wave extend?  Btw, isn't it interesting to observe that when the 5th wave travelled 50% of the distance covered by the first 3 waves, it turned around and raced higher? (Of course, it was convenient that the $1 trillion rescue package was announced about the same time! But these technical levels seem to know in advance when the good news will arrive, don't they?) Now the first chart above is actually the 3rd wave within the bigger 5th. To appreciate that, you have to look at this second chart.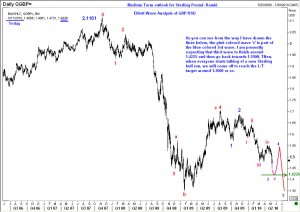 After you look at this chart, you will realize that those who have placed their stop at 1.5100 looking for 1.3500 will be stopped out if this analysis is proved correct. Of Course, no one will know until later what is going to happen, and it is easy enough to come up with nice looking charts and comments. Yet, I felt compelled to place on record what I felt at this point in time. As a bonus, I am also giving you a third chart on GBP/USD. This looks at the 5th wave discussed at the top more closely.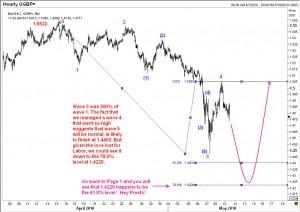 We could finish at 1.4403, or more likely at 1.4226. Then allow a recovery towards 1.5050 as a first step. We will then come down again, by which time some of the bearish sentiment will wear off. Later on we should go further up towards 1.5500 before the much bigger down move to 1.36 could start. We shall see. All of this will be in vain if we go directly lower towards 1.3600, but if that happens, we will start salivating for a much bigger recovery later on because a HUGE five wave move from 2.1161 would be close to its completion. Enjoy!