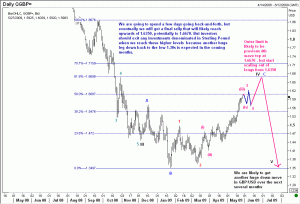 Back in March, when Sterling was trading around 1.4450, I wrote in the FX Trader magazine, and reproduced in Elliott Wave Magic, that we are likely to see the currency approach 1.6170. The currency has today reached a high of 1.6039 and is entering a period of consolidation. What is the medium-term outlook for GBP/USD?
The practice of Elliott Wave Analysis is more an art than science. In order to be successful, one has to be willing to suspend disbelief, and stay truthful to his/her count. It is also important to be able to "adapt to the road" while we drive towards our destination. There may be a need for a slight detour that was not planned for originally, but so long as you have not flouted any rules of the game, you are still 'playing'. At the time of making the original forecast of 1.6170, the potential for 1.6670 was always there, but given the hurdles around 1.4900, it didn't seem right to point to the far-out objective. Now that we have reached 1.6039, one can start looking at how far the move can go, and what is likely to happen thereafter.
Allow for another go at 1.6040-90 now, but assuming we fail to stay above that level for long, we should enter into a period of consolidation. During this period, a decline to 1.5770/1.5600 is possible, but another rally should materialize from down there. That rally will be able to go at least back to 1.6090, and possibly 1.6320. Investors should start getting out of Sterling Pound denominated assets when we reach the 1.6320-50 levels and not wait for the final target of 1.6670. Those last 300 pips are not worth the trouble because we are looking for a much bigger move on the down side, a move that can potentially go back to 1.33 area.  Remember the golden rule that you can be a successful trader/investor only when you follow sound money-management principles. Elliott wave analysis will help you think through potential trades, but you have to have not only the courage to take the trade, but also the discipline to keep any losses small. Good luck.