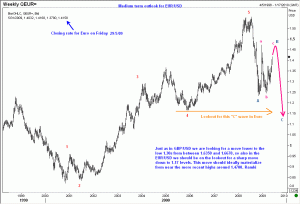 One of the golden rules to follow is never make a forecast! That doesn't mean one shouldn't have a plan of action ready. What the pundits say is the market has a mind of its own, and you are very likely to be wrong if you attempt to say how far a move will go. I must confess, however, that I have been wrong quite a few times, but I have been on the dot an equal number of times, probably more often right than wrong. Thus, one must assume that an Elliott Wave analyst has an edge, and that edge needs to be exploited. Another point is I have been more often right when calling the short-term turning points, but have been equally right about the medium-term directional calls, though not so precise about the exact turning points in the medium term. That is understandable because in the big picture we are dealing with a lot more uncertainty. Having sufficiently fudged the issue, it is time now to take a look at the big picture of the Euro.
Medium Term Outlook for the EUR/USD
Our medium term outlook for the Euro starts with the wave count going back to the low of 0.8225 seen in the year 2000. I suggest that you print out the accompanying chart so you can follow the wave counts comfortably. The first wave finished around 0.96.The second wave saw a move down to around 0.8350. The inability to break to fresh lows must have prompted investors to move back into Euros because that low marked the start of a huge third wave that took the Euro almost to 1.30. We then got an irregular fourth wave correction to around 1.17. After that, the euro completed its fifth wave at 1.6038 in July 2008. As you all know, when a five wave move is finished, we should get a correction (typically in three waves) taking the price back to the previous fourth wave of a lower degree. This fourth wave was 1.17 level. We saw the first corrective "A" wave down to around 1.23. The rebound from there was fast, but that was only the first leg of another 3-wave correction of the "A" wave itself. We are currently in the "c" wave of the mini correction, and being what is known as a 'flat' correction, we should expect this "c" wave of the "B" wave to finish near the top of the "A" wave, around 1.47. Once this mini correction is over, you should get prepared for a huge down move in the Euro all the way down to 1.17. This, then, is my medium term Elliott wave 'forecast' for the EUR/USD or Euro. So help me, God!