NewLink Genetics Corp has seen a humongous rally in the last one week. As recently as 6 September, the stock was at $7.79. And then came the huge squeeze! On 8 September, it rallied to a high of $19.30. Wow! What happened there? It emerges that Israel Englander's fund has acquired a stake of 5.8% in the company, as records show they have purchased 1.7 million shares. But let us use our own Elliott Wave approach to see if  there are any additional clues that could help us determine how much room there is on the upside. Then we can decide whether NewLink Genetics Corp (NASDAQ:NLNK) a buy here.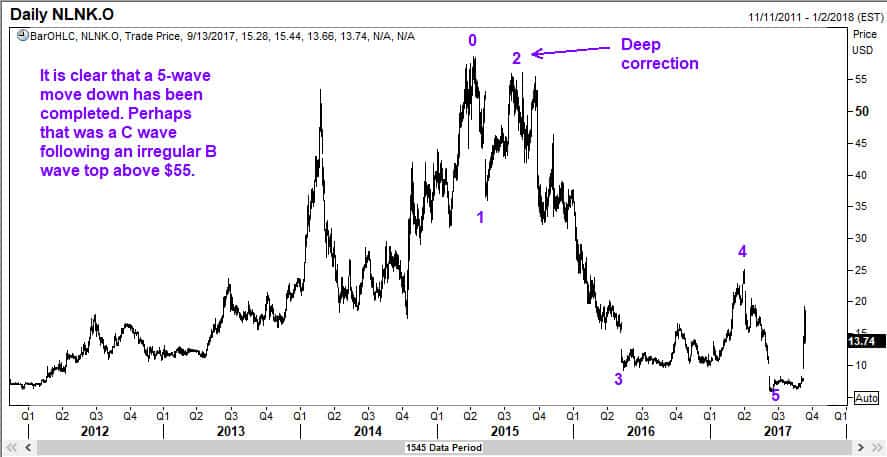 The distance travelled by the second wave is itself a clue. Elliott Wave theory says that the two corrections in a five wave move tend to alternate in terms of distance covered, and the complexity of the waves.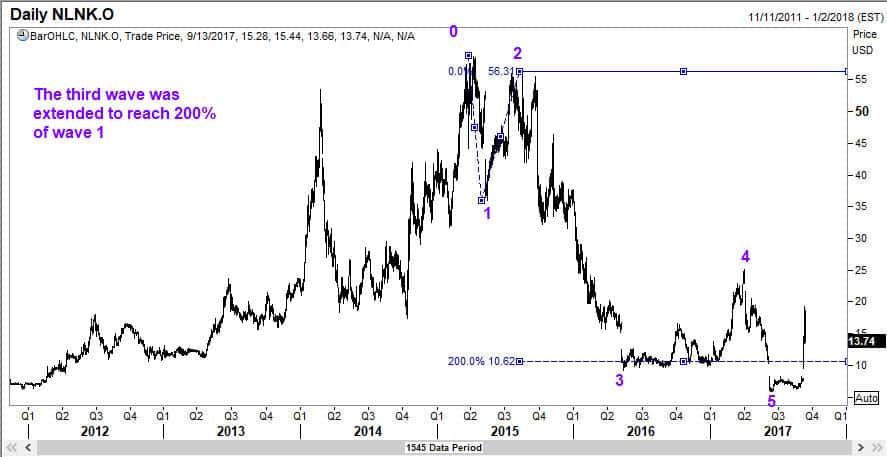 Elliott Wave theory says that any one of the three impulse waves in a five-wave sequence is likely to be extended. In the case of NLNK, the third wave has extended to reach 200% of wave 1. Remember from "Five Waves to Financial Freedom" that when wave 3 is over 161.8% of wave 1, we consider it as an extended wave.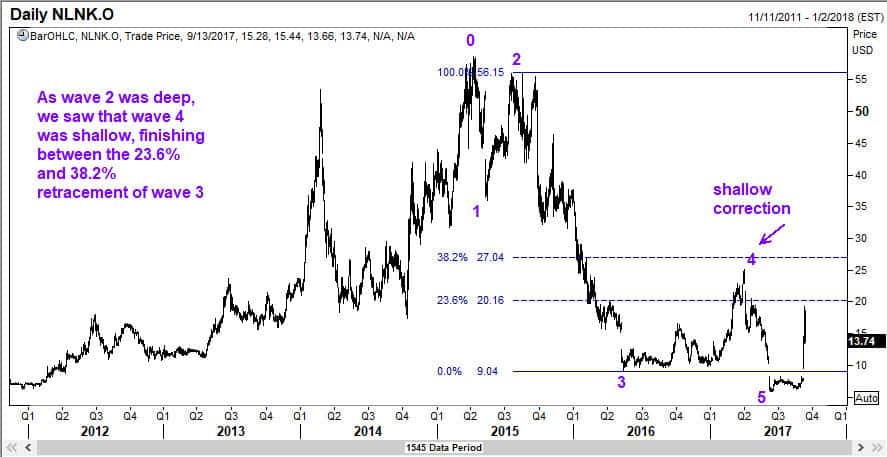 As explained above, the two corrective waves tend to alternate in distance and complexity. Because wave 2 was deep, we got a relatively short wave 4.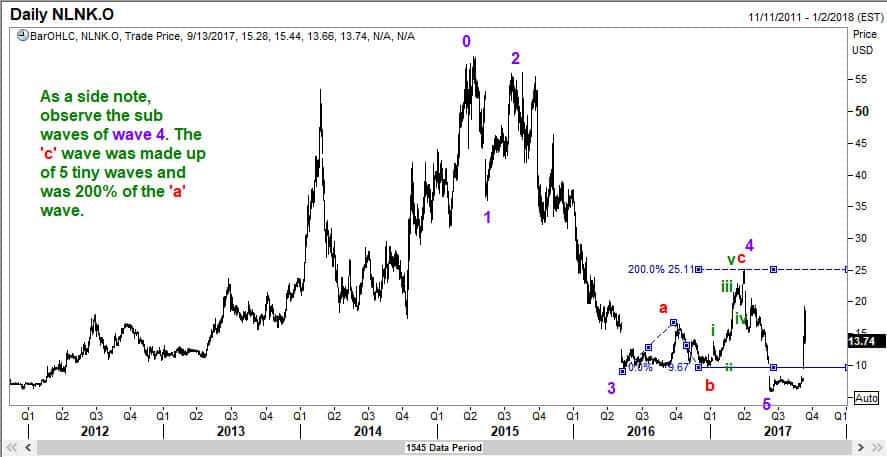 It should come as no surprise to Elliott Wave traders that even the minor waves within a move tend to be related to each other. There is an internal harmony, which is what makes the picture all the more impressive. Lucky is the trader who is tracking these moves carefully, because he can find some really low-risk levels to position himself/herself and make some handsome profits.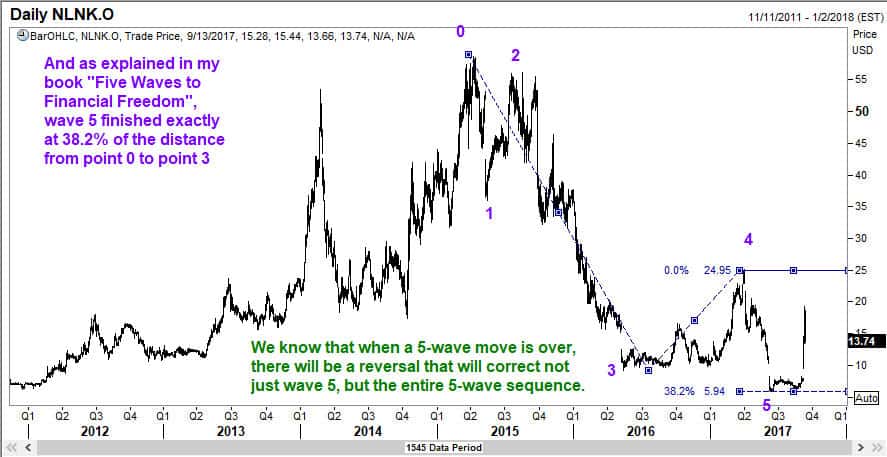 If you have read "Five Waves to Financial Freedom" you would know that the fifth waves tend to finish at one of a few well-defined places. In the case of NewLink Genetics Corp, we saw its wave 5 end precisely at 38.2% of the distance covered from the beginning of the first wave to the end of the third wave.
So what comes next?
Here are the clues. When a five wave sequence ends, the subsequent move in the opposite direction will correct not only the fifth wave, but the entire sequence of five waves. So it will be a correction that will be both bigger and last longer than either of the two corrections we saw during bear phase. We know that wave 2 was deeper than wave 4. But wave 4 lasted longer than wave 2. Wave 2 went from $36.02 to $56.16, or over $20. So the current recovery will have a MINIMUM target of $25.90 as the low was $5.90. The current level is $13.74. So we are looking for an appreciation of at least 85% from current levels!
However, this does not mean you have to rush and buy today (worse, don't buy call options just yet). The reason is the move can take at least as much time as what wave 4 did. If you check back, wave 4 commenced on 12 May 2016 and was finished on 3 April 2017. That means it lasted almost 11 months. So your time frame for this move should be AT LEAST 11 months. If it comes sooner, you just got lucky! So with that piece of information, you have an edge! You can keep this stock on your watch list, and keep adding decent amounts whenever it dips. Your goal should be to accumulate this stock, with an investment perspective. If you were a trader, you should have anticipated the reversal near the bottom by following the techniques that I use. (You can still watch the intra-day charts and exploit the market at opportune times. But always play from the long side, after you get minor corrections).
Thus, to answer the question posed in the title, should we buy NewLink Genetics Corp (NASDAQ:NLNK) here, I would say this. It is a buy on dips because we still have At LEAST 85% on the upside, but be sensible and  buy the dips. Alternately, if you can buy with stops below $5.90, go ahead and buy here. But I wouldn't rush in just yet. Fortune favors the brave, provided he/she shows the patience to wait for some bad news and then swoop down to grab some! All the best.
PS. I know I haven't posted regularly but I have been literally going around the world! Now that I am back, maybe we will see each other more often…By the way, here is the link again for the highly acclaimed Elliott Wave book: Five Waves to Financial Freedom