Many traders blindly trade without paying attention to the market clues that tie up with Elliott Wave. This article discusses some strategies.
This morning, I saw a news item that went as follows "South African telecom firm MTN is keen to enter the Indian shores. CNBC-TV18 learns from sources that MTN may go for a strategic acquisition route for its India entry. Interestingly, a lot of buzz was created on Twitter after Harsh Goenka, chairman of tyres-to-software conglomerate RPG Enterprises tweeted from his handle @hvgoenka: "MTN doing due diligence of a large Mumbai-based telecom company. Will this mega deal happen?" He, however, did not answer the subsequent questions from Twitteratti. Sources told CNBC-TV18 that MTN is open to picking up financial stake in existing Indian telecom player. They say MTN is in talks with three Indian telcos — Reliance Communications , Tata Teleservices and Idea Cellular . However, Goenka's nudge could be towards the Anil Ambani-owned Reliance Communications that has twice in the past held talks and even agreed to part with majority stake for management control in one instance.
Read more at: Moneycontrol
So three companies are being mentioned and I looked at all of them, and decided to present some of the charts for you to learn from. As I have often been saying, this blog is to help you learn Elliott Waves. For those who are seeking trade ideas, the place to go is wavetimes.net, but again, that forum is meant for traders and investors who have serious money at risk, and for the experienced traders. If you are already a member of that exclusive club, be sure to add the email wavetimes.member @ gmail.com to your contact list as otherwise my trade ideas and notifications could land in your spam folder.
The following are only some of the charts relating to Idea Cellular Ltd because, of the three companies, I believe this stock is the most likely candidate, even though Mr Goenka thinks it is RCOM (I continue to own shares in RCOM from the time I discussed buying it here at wavetimes.com when it was less than half its current value)
The first chart shows the labels for the wave 1 to wave 4 of Idea Cellular Ltd. This exercise allows you to figure out where we are in the bigger picture for this stock. You can see that wave 3 was extended, having reached 223.6% of wave 1. I suggest right-clicking each image and opening it in a different tab!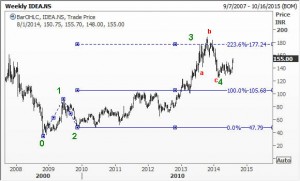 Further examination reveals that wave 4 has come down by 38.2% of wave 3. You will also see the principle of alternation at work. As wave 2 was a simple correction, wave 4 became complex, in the form of an irregular correction.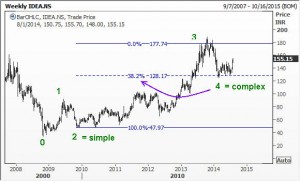 Now that we have satisfied ourselves that wave 4 has been completed, and that we are in wave 5 for Idea Cellular Ltd, we can go about deciding the targets for wave 5. As explained in my book Five Waves to Financial Freedom and elsewhere in this blog, we can usually compute easily three possible targets for wave 5. This is shown in the following chart.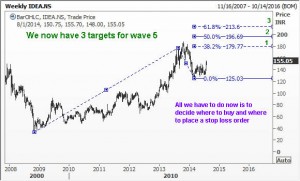 But many beginning traders and analysts fail to pay attention to other clues. For example, being aware of nearby resistances as shown below.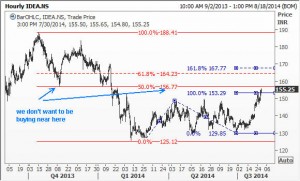 And finally, they also fail to take into account the possibility of being wrong. Even with 30 years of doing this stuff, I make allowances for errors, which is why the trades discussed in wavetimes.net are carefully chosen to give us the best chances for success. With Idea Cellular, despite the fact that there are certain additional clues that the MTN stake speculation is pointing in their direction, Elliott Wave analysis warns us to be aware of a different possibility.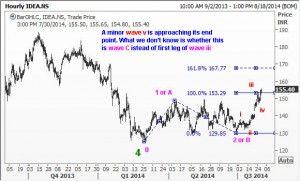 Having examined the various sides of the picture, we can now decide whether we should buy, and if yes, where we should buy this stock. And more importantly, where we should place a stop loss. But you can do that yourself, given the vast amount of inputs shared with you over the last so many years on this blog.
Good luck.