A few weeks ago, when Facebook shares were trading around $48, I had posted an article on Forbes saying we will see Facebook at $58.73. There was an immediate challenge of picking a short term low for the fourth wave, with one possible level being 47.40. But this was supposed to be a complex correction and it allowed further mild weakness before we went higher. And sure enough, after dipping to a low of $43.55, Facebook went roaring back to a high of $58.58. How high can this go, and what is the prognosis after we complete this up move?
Elliott Wave Analysis of Facebook
Elliott Wave analysis, as explained in my book 'Five Waves to Financial Freedom' is very effective to determine one's trading and investing tactics. We know that the fifth wave can be equal to the first wave, and if you look at the first chart below, you can see why we got a quick sell off from near 58.60. The reason was many professional traders who know about the power of Elliott Waves would have sold near there. But there is also the underlying human emotion that giverns mass psychology. The general public is not so easily put off, as they still see buying opportunity at every dip. This is what culminates into a fifth wave.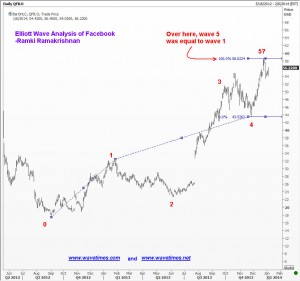 Target for Facebook Fifth Wave
There are two other ways of anticipating the target for fifth wave. We can compute a 38.2% or 61.8% measure of the distance from the start of wave 1 to the end of wave 3. Occasionally, we can also see it finish at the 50% measure of this distance. the measure so computed is added to the bottom of the fourth wave to get the potential target for the fifth wave, and doing this as shown in the chart of Facebook below gives us the potential turning points. But first, take a look at the subwaves of the fifth wave in the higher degree. You can see that the 3rd wave had extended to reach 300% of the first wave.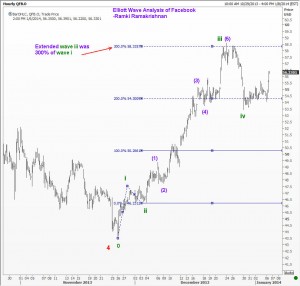 Where will Facebook finish its fifth wave and outlook for the stock
Typically, when a third wave extends, there is a higher chance for wave 5 to reach the 61.8% target. However, as always, it never pays for an investor to wait till the very last cent!  So, I would suggest exiting all longs from near 59, and to start turning cautiously short, selling a larger amount as we get above the $62 mark. Because we will now be correcting not just the fifth wave, but also the entire five wave movement that started from below $18, you should expect the correction to be quite significant. At the very least, I expect the correction to last over 3 months, and the price to decline by at least 15%. Having this kind of expectation is possible only with the deft use of Elliott Wave Principle. You too can profit by mastering this theory and start taking low-risk trades. Good luck.