Hello Folks,
As promised, I am producing some of the GBPUSD updates posted on the Premium Website. This first one below was dated 25 Feb 2013. The low for GBP on 1st March was 1.4984 and it reached a high of 1.5199 by 5th March. (Of course, we didn't catch the full move to the top because I continued to remain bearish, and as this was a counter-trend move, the position was closed out sooner)
————————————————–
25 Feb 2013 UPDATE (On the Premium Website)
After a nice long walk, I came back and looked at the charts again, and have changed my mind about where a low-risk counter-trend trade is in your best interest. Take a look at the attached two charts and modify your tactics accordingly. The GBPUSD is still around 1.5140 as I am posting this. Good luck.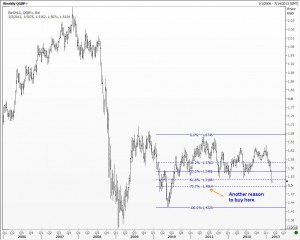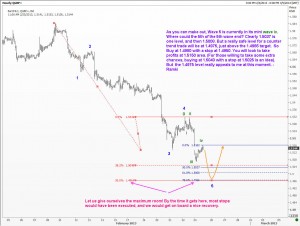 ——————————
On 1st March I posted this update, urging people NOT to sell at 1.5050 if it got there AFTER a dip to around 1.4980. This saved them for selling too soon, as price recovered to 1.5199 as mentioned above.
1 March (another update)
While we should look to the daily and hourly charts to figure out our trades, it doesnt hurt to keep an eye on the very short term charts as the price approaches our levels. As I mentioned earlier there are supports between 1.4964 and 1.4980. That could produce a small round of short covering before the weekend. If you see a move towards 1.5050/55 , you may try a small short because I think we will likely stay under 1,5085 and test our supports. But don't try shorts on any bounce AFTER it trades to 1.4980. We need to look at the charts again at that time. Remember, the short term trades aren't for everyone! Most of you have come to WaveTimes with an intention of catching a large move (which means at least a 100 pips, or thereabouts)
————————————————
On 5th March, I told traders to sell around 1.5250 because I felt the Pound was going down to 1.4880. However, it failed to go above 1.5199, and we missed  that sell there. The confirmation that a top was in place came when the Pound came directly below 1.5040.
——————————
On 7th March I posted this. And incredibly, the Pound dipped to a low of 1.4966, recovered to 1.5012, came down to 1.4970 again, and rallied to 1.5080. On 8th March it touched a low of 1.4885 and recovered to 1.4958. See the comments below. All of this was for a one-time payment of $50.
—————————————————
7 March:
As we dipped directly below 1.5040 yesterday (a level that has now become a solid resistance, and today's high itself being only 1.5030) I am closing this thread. But as a parting gift to you. here is how I think it is likely to play out from here.
We are currently at 1.5000
I think we will first get a dip to 1.4960, then recover to 1.5015
From 1.5015 we will get another dip to 1.4940 levels (max 1.4915)
From there we will get a recovery to 1.4995 followed by a final dip to 1.4860.
Remember that I had said a few days ago that we should start buying from near 1.4880
Do so in stages, because we will get a large sized correction from between 1.4860 and 1.4880.
But always have a stop. It is one thing to have a trade idea, and quite another to manage the position properly.
——————————————————
And on 10th March, I gave yet another complimentary update:
10 March 2013
Special update:
We bounced from 1.4885 to a high of 1.4958
I think we could come down one more time to test 1.4865. Either from there, or from 1.4840 area, we should see a recovery back towards 1.5020. Suggest that you start buying small amounts in this window and see if we can get a break above 1.4950! As this is still a counter-trend trade, you should only play small amounts.
Good luck.
 ————————-