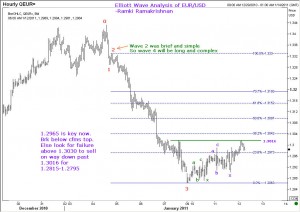 A few days back I had suggested that we could be in an extended fifth wave, and was looking for a place to go long EUR/USD. However, the markets never rallied from the anticipated targets, signalling that it was the 3rd wave that was extending, and hence one shouldnt make the same mistake twice (of trying to pick the bottom).
Always remember that Elliott Wave analysis is a dynamic tool. One cannot label the waves and command the market to do something because we have labeled it so in our charts! Yet, the wave analyst is able to take more informed decisions because of his wave count and because of teh rules and guidelines he follows in trading the market using his current wave count.
The outlook for EUR/USD continues to be for further weakness, at least in the short term. If we fail in the 1.3030/45 window on the next recovery, look for the currency to head lower again towards the 1.2815-1.2795 window.