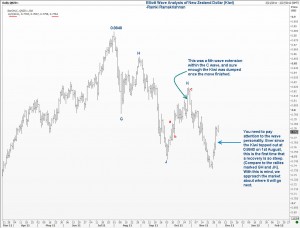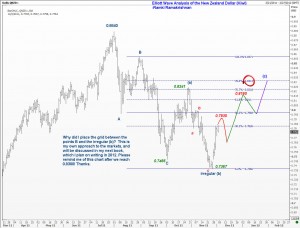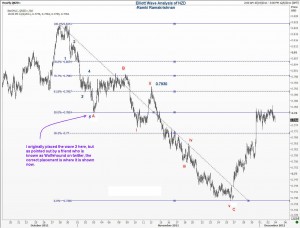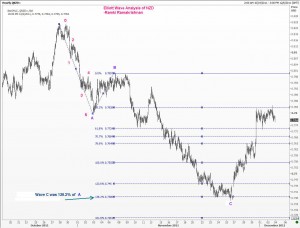 Those of who who read my book "Five Waves to Financial Freedom" would have seen that I used the New Zealand Dollar in quite a few examples. ( I have no special love for any currency, by the way. It just happened that when I wrote the book during August 2011, this currency showed many nice Elliott Wave patterns).
In a subsequent Elliott Wave update of the New Zealand Dollar, posted on October 23, 2011, I continued to be bearish. I suggested that there was a low risk possibility for the move to finish its then current recovery around 0.8150 before a nice sell off. The actual high happened only a 100 pips higher, but one could have easily adjusted his count as we appraoched the 0.8150 to figure out where the move will finish. The NZDUSD fell to a new low of 0.7367!
You have to bear in mind that Elliott Wave analysis is always a work-in-progress. Our goal is to stay one step ahead of the markets, but not to be deterministic about the future. Accordingly, when one of the WaveTimes Club members posted a request to revist the moves in NZD, I decided that all of you readers could benefit by this update you see today. I am trying to present you with a broad road map of what I currently think could happen. It is very forward looking, and is thus vulnerable to being completely wrong. However, this is how I operate. I consider the big picture and ask myself what my instincts tell me. This inner voice uses what I have learned over the years, and pays particular attention to wave personalities. (There is a good portion of my book devoted to this subject). Accordingly, the most recent rally in the New Zealand Dollar has a unique personality that suggests we could go back to 0.8300 levels next year. However, there is some more work to be done before that move will happen. I think we will likely get a dip back to around 0.7600 if we fail around 0.7900. The bigger rally in the NZD will come only later.
You now have before you Elliott Wave comments on the New Zealand Dollar done on 4 December 2011. Key levels and minor waves have been marked clearly for your understanding. Please bear in mind that I am not recommending you a trade here. Trading requires you to fine tune the entry levels as the market approaches the levels you identify in the big picture. However, with the knowledge you have gained by reading this blog and its innumerable examples, you should be in a position to use Elliott Waves the way it is meant to be. If you have learned that, then I would be quite happy because my main goal for writing all these years is to share what little I know of this fine art, and to give you the tools to handle your trading and investment decisions in a more disciplined way. One doesn't become poorer by sharing his knowledge! Go ahead and pass this on to all your friends. As my friend Bob often says, "Good Fortune"!