In this post, I am going to present you with Elliott Wave analysis of Wockhardt Ltd. One of the members of my exclusive club had approached me for a consultation back in January 2014. It was the 14th of January, to be precise, and the stock was trading at Rs 413.65. The member sent me the following brief note:
"I consider myself as long term investor. I hope your advice/analysis will help in some of my long term investment decisions. By long term I mean I could hold for more than a year, if required.
Could you please look into the following stock for me: (I understand this will cost me 2 credits)
Market – India – NSE
Company – Wockhardt limited
Symbol – WOCKPHARMA
Exposure – None at this time.
Comment: This stock has comedown from around Rs. 2000 and currently trading at 420. It saw a low of 350 about 3 weeks back. Did it start its uptrend? Since the company is in pharma industry, it is subjected to lot of FDA regulations. I think FDA's adverse observations made the stock to drop in recent times."
I looked at the chart, and could make out that it was going to be a challenge to come up with a sound analysis. I prepared a set of 10 charts and will share with you some of them here. Please note that this is not a marketing message. The idea is to allow readers to see the value of Elliott Wave analysis, and how someone with experience with Elliott Waves could come up with a sound strategy. I recommend that you open the charts in different tabs.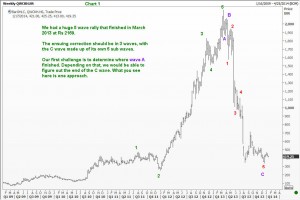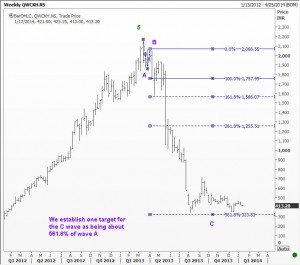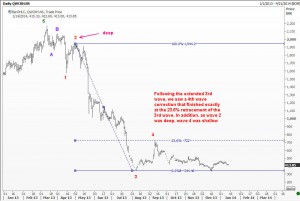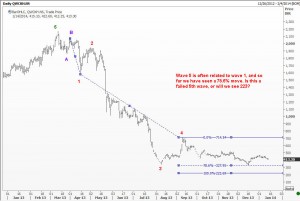 As can be seen from the above, I have finally come to the conclusion that a major correction is now over, and the rally that started off from that low is the first wave of a new cycle. Now comes the more interesting part, the one about where to buy.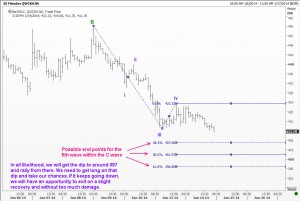 So we have identified a low-risk entry point. However, there were other considerations like risk-management and what size to expose. Yet, an initial entry point has been identified.
This member went long a decent position size at an average rate of 430. He probably purchased some on the way up after the dip, a smart investor I must say. He understood the size of the upcoming recovery, and wasn't penny wise when it was the right time to take a risk. A majority of traders do the opposite. They take big risks when they should be cautious, and take small risks when everything points to a favorable move! Anyway, this is what happened. I am sharing with you just the plain chart without any notations. We got a dip down to below the 400 mark twice in the days that followed and the stock is up by nearly 70%.