Ucal Fuel Systems have reported some interesting results for the quarter ended Sep 2017. The Elliott Wave Analysis of this stock suggests that we could be on the threshold of a wave 5, which will get confirmed upon a break out above the declining trend line shown in the chart below.  So let us see how this plays out.
Wave 2 of Ucal Fuel Systems was 61.8% of wave 1
Here you see the Elliott Wave Analysis of the sub waves of wave 3 of Ucal Fuel Systems.  Observe that sub wave v within wave 3 finished exactly at 61.8% of the distance from point 0 to point 3, just as you learned from my Elliott Wave Book, "Five Waves to Financial Freedom".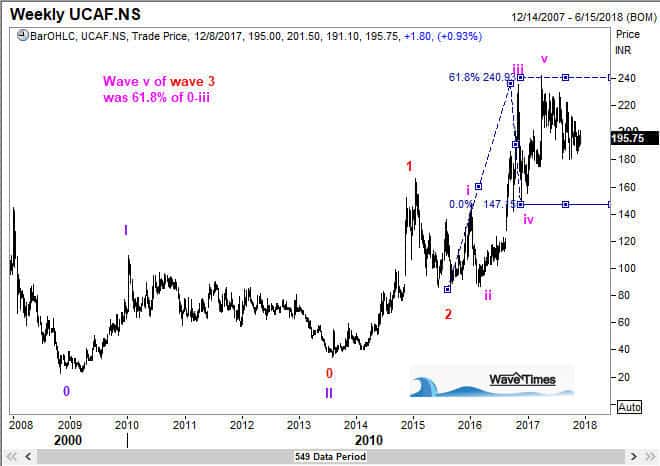 We can also see that wave 4 has corrected wave 3 of Ucal Fuel Systems by 38.2%. Considering wave 2 was deep, this should normally be enough of a correction.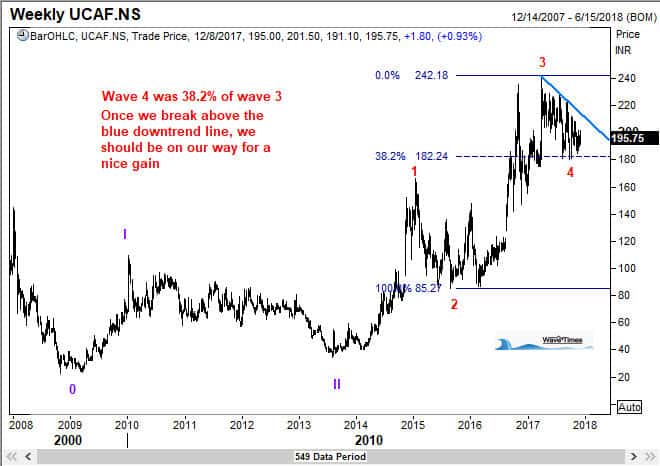 When it comes to trading (or investing), you will always have to make a decision at some point whetherwe have a low-risk entry level. At WaveTimes, I have been showing you how to trade with an edge. That edge doesn't mean you will have zero risk! But following that method systematically gives you an edge. What is an edge? An edge is a system that, if followed diligently over several tries, will give you a tremendous advantage over the other players.