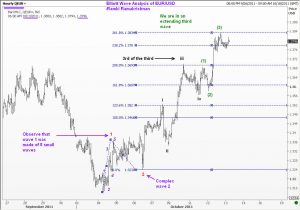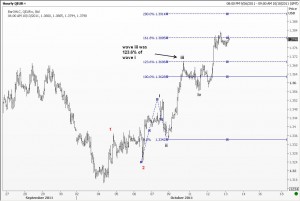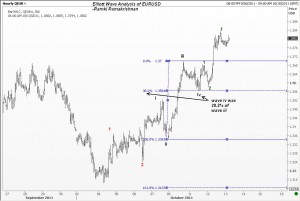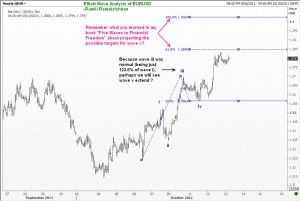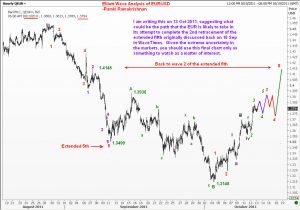 It is almost a full month since I presented you some analysis on the EURUSD. As discussed last time, Elliott Wave Analysis is a dynamic approach to the market. Your goal should not be to showcase that you can anticipate price patterns and targets correctly. Rather, it should be to learn the techniques and apply it to make money.
I notice that some readers keep posting requests for views on where the market will go next. In its current avatar, WaveTimes is not offering any trading advice. The main reason for the existence of this blog is to stay connected with market, and to share my experiences with those who seek to learn. Some of my predictions could look audacious at the time of writing, but be aware that as a trader who practices the theory, I can change my mind any time. You too should give yourself that flexibility. When I spend an hour on a chart, and come up with a plan, it is a plan that I will follow until proved wrong. After reading my analysis, if you think you agree with what is being said, you should put in place levels where you know that something is going wrong. I may not be updating this blog in real time for you!!
Let us look at the progression of the Euro from its recent lows, and see if there are any reinforcing lessons for you. (As I have said elsewhere, my book "Five Waves to Financial Freedom" is a living book because this blog is an extension of that book. You may learn a lot just by going through the numerous examples here, or you may choose to have that book as your main framework and use this blog as a supplement).