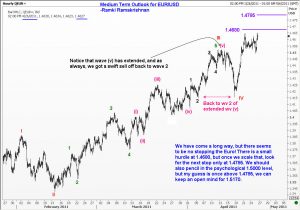 Elliott Wave analysis is always a work-in-progress. We could determine a possible target at one point in time, and once that is reached, a new higher target might become necessary depending on fresh information. It is important to understand that determining a target does not mean one should sell as soon as that target is reached. A sell recommendation is called for when a particular set-up is presented by the market.
Take the case of the EUR/USD. My Elliott Wave analysis posted on 6th March (when the Eur/USD was at 1.3980) suggested a move to 1.4374. Then on 7th April, when we were around 1.4350, I warned that we could get a push higher again from 1.4220 but recommended to lighten up on longs as we moved higher as there was a distinct possibility of a move lower to 1.4020. FRom 1.4240, the Euro reached a high of 1.4550 and moved lower quite quickly, but reached only 1.4150 on 18th April. Still the warning was useful, and anyone who was riding long would have benefitted by knowing in advance of an imminent shake up.
The EURO has rallied smartly again from 1.4150, and it is time to consider how far it will go. We have some event risks tomorrow in the form of a press conference from Ben Bernanke. If he disappoints, the Euro could move quickly higher to 1.4785. The immediate hurdle lies at 1.4680. Don't be surprised if you hear Mr Trichet saying his bit (something like a strong USD is in the best interest of everyone, or too rapid a move in forex markets was not a welcome development) Such comments will cause a few hearts to beat faster, but the key level where one will really have to be ready for a medium term trade will probably be near 1.5175. I will, no doubt, talk to you again if we reach those levels. But at least you now have a road map, and what I currently think about the EUR/USD based on my Elliott Wave analysis of this currency pair.
Finally, what will happen if we are unable to break above 1.4680? Such a development will expose 1.4365/75 from where we can look for a recovery back to 1.4500, by which time I will have fresh information to take to the drawing board. However, at this point in time you know my preference is for a move to 1.4785 initially.
Good luck! Ramki