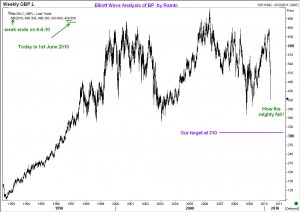 Just over 3 weeks back  the Wall Street Journal reported in its Market Watch that analysts were saying BP's tumble on oil spill was overdone. It quoted analysts' target of 730 pence for the share from its current level of around 575 pence.
Elliott Wave Analysis of BP however pointed to the opposite direction, and I had put out a chart  on 4th May 2010 suggesting we will head towards 310. I also mentioned that  the stock will likely remain weak at least until early 2011.
Today, Bloomberg reported that BP has abandoned its latest effort to stop the biggest oil spill in US history (and also the resignation of some more of BP's fuel traders). Some columnists are now suggesting that it is not just BP's dividends that is at stake, but the very independence of the company. The result: BP's 5-year credit default swap has widened by 71bps to 173bps, and the stock has lost 13% in just one day. We are currently trading around 425 and our target of 310 will probably be reached before I return from holidays. Take care.