This post originally appeared on Wavetimes.com on 26August 2013 and has been restored after a crash of the database. Hence the date is shown differently above. My apologies to those who posted comments, as these have been lost too:

What is the outlook for BHEL? Has BHEL seen a significant low at 100.35? Should we buy BHEL on the next dip? What does Elliott Wave analysis suggest for BHEL? Let us start with a long term (weekly) chart of BHEL. Wave 5 that started around Rs 270 seems to have posted a 50% measure of the distance from 0 to 3.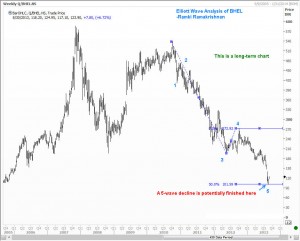 Next, let us look at the moves from 270 in detail. The first chart below shows that at 161.97, wave 3 was exactly 161.8% of wave 1. And the second chart of BHEL shows that we have already been to 78.6% of the distance from 0 to 3.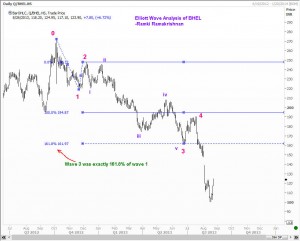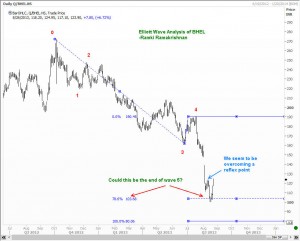 On top of that , we seem to have just exceeded a reflex point. Despite all this, the weekly chart looks quite bearish and we shouldn't be surprised if the stock fails to overcome the 140 levels, and to attempt another test of the recent lows.
Next, take a look at another Elliott Wave count for BHEL, shown in the chart below.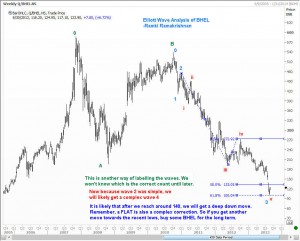 This chart would suggest that we have just finished a 3rd wave, and a complex fourth wave is likely to be seen. A complex correction could take many forms, and one of the most common corrections is a 'flat' correction where wave B reaches or exceeds the starting point of wave A. So, if you see a failure around 140, that could well be a trigger for a retest of the lows. It might be a good idea to consider buying some BHEL near there for the medium term. We will revisit the charts when it gets there, just to make sure that the decline has the personality of a B wave. Will someone please send me a reminder at that time.