Alliant Energy Corporation (NYSE: LNT) has been part of David Van Knapp's Dividend Growth Portfolio since 2010. In his article in Seeking Alpha, David celebrates the 6th birthday of his portfolio and showcases the stocks that go into that portfolio. The first stock in the list of 18 stocks is Alliant Energy Corporation.
As most of you know, I look at stocks from an Elliott Wave perspective first, and so decided to do a detailed study of Alliant Energy Corporation. Elliott Wave analysis is a method that many professional investors embrace because it gives them several clues about where in the market's progression we currently are. Briefly, Elliott Wave Analysis says that all impulse waves are made of 5 waves, and once a five wave movement is completed we should expect a correction.
Alliant Energy Corporation's Elliott Wave charts reveal that we are in the fifth major wave higher, and within that fifth wave, we could potentially be in the fifth sub-wave. Usually, investors should start planning on a strategy to exit their holdings during this fifth-of-the-fifth wave. However, with Alliant Energy Corp the story is slightly different. The first and third waves that we have seen so far were both of normal proportions. Besides, the two corrections in wave 2 and wave 4 positions were both relatively brief. This leads one to anticipate an extended wave 5. So, we might as well be patient and wait for a move to around 60.50 before we take a fresh look at this stock. What follows are a set of 11 Elliott Wave charts of Alliant Energy. Study them carefully to see how the market seems to dance to the magic wand of Elliott Waves. Good luck. (I suggest you right click on each image and open in a new tab)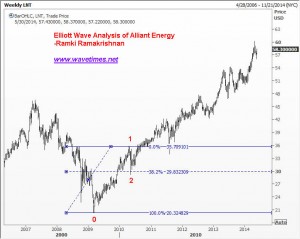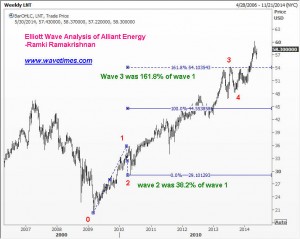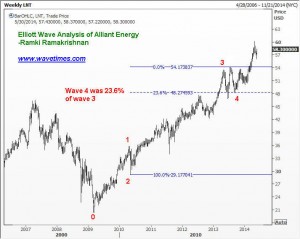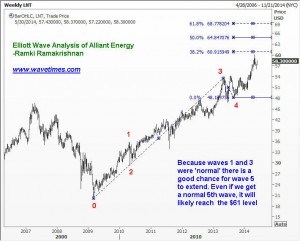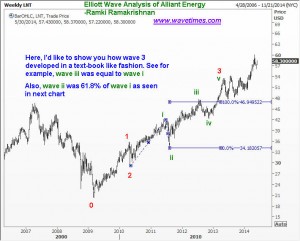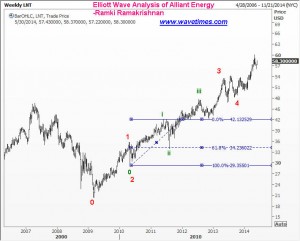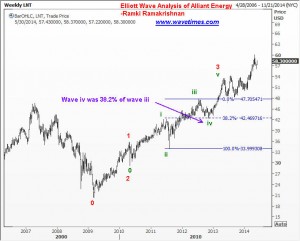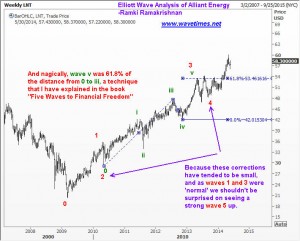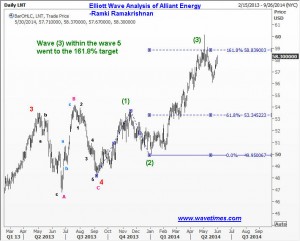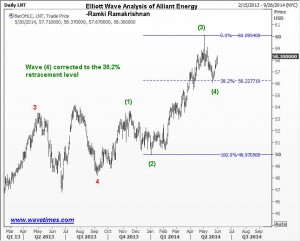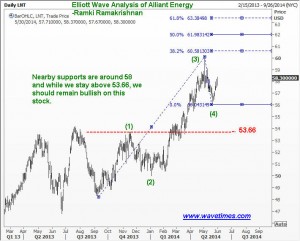 Date: 3 July 2014 Elliott Wave update for Alliant Energy Corporation
On 1st July, Alliant Energy Corp reached a high of 60.89 and today, just 2 days later, it is down at 58.25. WHat new clues are available? Take a look at this chart.