Elliott Wave Analysis of EasyJet as posted here on 6 May 2012 suggested a three step move as follows: First a recovery from the then current 514 levels to 533, followed by a dip to around 470 after which a rally to 595. Here is the link for that post: Eliott-wave-analysis-of-easyjet-plc
Guess what happened! The stock went to 536, came down to 474 and rallied to 599. It is currently trading at 585. So we pretty much anticpated a 25% move with all its twists and turns. I am not aware of any approach to technical analysis other than Elliott Wave Analysis that can do this so effectively!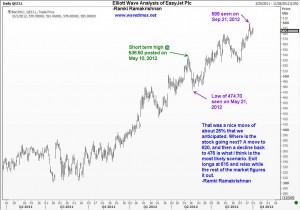 In my original post, I suggested that once we complete this move, there is a chance for a move back down to 470 levels. As you are aware, with new information we are always in a position to fine tune our levels. I now believe that if we get a move to 615, it might be a good idea to lighten up and get ready for a sell on this stock. Infact, even from 595 one should start selling off one's holdings in stages. I mention 615 because the 620 level seems to be where the fifth wave could finish. I arrive at that level using the same techniques explanined in my book "Five Waves to Financial Freedom". It has been my experience that it never pays to wait for the absolute top to exit one's existing positions. It is fine to be patient to take a counter trend trade as close to the computed top as possible. That way, we can minimise any possible losses should the market continue to take the stock higher. But having identified 595 as the initial objective, we should have no qualms in getting out of any longs that we may have from near 470.