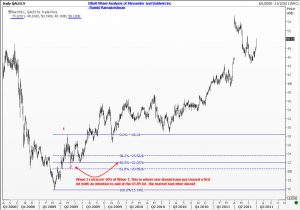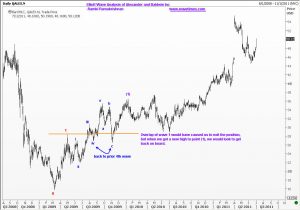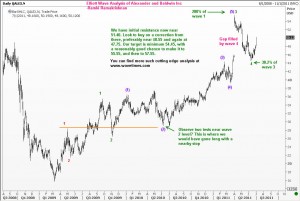 I believe that many of you are interested in individual stocks in the US markets.  Going forward, I will try and post my analysis of some of the Dow Jones Industrial Average or Dow 30 top movers. It could be a stock that moved up, or moved down aggressively. The idea is not only to give you a handle on how a technical trader will use Elliott Wave Analysis to trade the Dow 30 stock, but also to let you know what I think is the likely target in the near term.
The first stock we will look at is Alexander and Baldwin Inc, a stock that went up by a dollar and ninety six  or 4.07% on 1st July. This stock was the top mover last Friday among the stocks that make up the Dow Jones Composite Average. (I know I said Dow 30 , but too late, I spent too much time on this stock already, so we will leave it as it is :)-
The chart of Alexander and Baldwin Inc clearly shows an extending third wave. Thus, from an Elliott Wave perspective, we should continue to trade this stock from the long side, and look for it to eventually reach $55.50 or higher.
Feel free to comment on this analysis, and to share with your friends. The links to share are just below this line!