If you are a foreign exchange trader dabbling in the exotic markets of Down Under, you might be wondering if Elliott Waves work with the New Zealand Dollar. The answer is a resounding YES! We will show you a chart of New Zealand dollar with helpful Elliott Wave comments to prove our point.
I made the following comments back in August 2011. But the concepts are unchanged. The are relevant to this day.
It's been a long easy (!) road for the New Zealand Dollar, the currency that Forex traders know more affectionately as the Kiwi. But it is increasingly looking like the honeymoon is over.
Take a look at the chart of the NZD below that gives you an Elliott Wave Analysis of the currency. The New Zealand Dollar embarked on its journey back in 2009 from around the low of 0.4900 and it peaked on Aug 1st at 0.8840. That is an 80% appreciation, and I am sure exporters of the tasty butter and soft wool and healthy lambs must have been hurting all along.
Well, your troubles are probably over, because over the next few months, the currency should come off to 0.7970 initially, and shortly thereafter to 0.7760. Further out, we will see a continuation of the decline down to 0.7170 area. Some of the unwinding could happen with a reversal in Gold, and also a decline in the price of Oil. Commodity currencies should generally suffer in the process. But enough of the fundamental stuff. You already know my views on Oil – it will go down to around $71. So let us look at the outlook for NZD, or Kiwi.
Elliott Wave at work in the New Zealand Dollar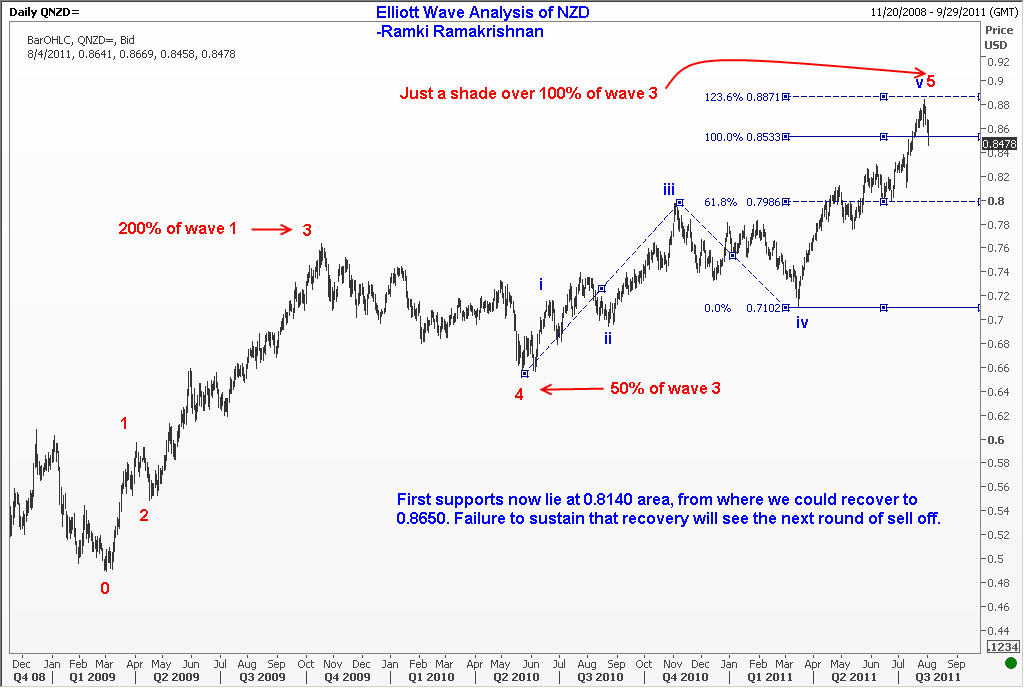 Starting from the March 2009 low of 0.4890, we saw wave 1 finish in April 2009 at 0.5974. Then, wave 2 came down to a low of 0.5483. After that we got a massive wave 3 rally to 0.7634, which is a 200% measure of wave 1. Clearly, wave 3 was extended.
Now here is the interesting thing. Observe that wave 2 was brief and shallow. The principle of alternation in Elliott Wave Theory says that wave 4 will likely be elongated and/or deep. And sure enough, wave 4 took 7 months to retrace 50% of wave 3. The low was 0.6559.
A Running Flat Correction in New Zealand Dollar
We all know what is a flat correction. It is where wave C ends just below the bottom of wave A. But a Running Flat is a rare occurrence that is seen in extending waves. Here, wave C ends at a higher level than the bottom of wave A, and the price commences its next impulse phase. If you observe the chart of New Zealand Dollar, you can see this phenomenon in the sub-wave 2 of wave 5.
How did we arrive at the ending point of wave 5
We measured the distance from the starting point of sub wave 1 to the ending point of sub wave 3. Then computed a 123.6% measure of this distance and added it to the bottom of sub wave 4. How did we arrive at the decision that this Fibonacci ratio could work? Two reasons! The first is that target will almost equate wave 5 to wave 3. Secondly, the minor waves inside sub wave 5 also pointed to this target. When we get the same target when computed from different angles, then our confidence grows.
Did subsequent moves in NZD confirm that Elliott Waves work?
By November 2011, the New Zealand dollar reached a low of 0.7367, a move of over 16% from the top. If this is not illustrative of the power of Elliott Waves, I wonder what is!
Conclusion
We have illustrated step-by-step how we can analyze the New Zealand Dollar using Elliott Wave analysis. The fact that every wave respected the theory and that we were able to accurately anticipate the subsequent move is testament to our belief that Elliott Waves do work with the New Zealand Dollar.
Quick Question: Did you wish that you could learn directly from me on how to trade using Elliott Waves? Then you need not wait any longer. I have published what is now being acknowledged as the BEST course available online for traders.