Elliot Wave Analysis is more reliable than your newspaper reports. But let us face it. We have grown up in a society where most people believe what they see in print. (True, a lot of people also believe what they hear on CNBC!). Let me share with you a recent headline in the "Telegraph", a respected UK newspaper. To be honest, I heard of this report from a friend in the market who wanted to alert everyone on his contact list about this news item. (Forex market is a close knit community. Information spreads far and wide, and very quickly, even if they are only rumors! In this case, we had a newspaper article). The Telegraph headline read thus: Overvalued euro set to plunge 'within months'. I looked at the screen and saw the Euro was trading at 1.2570 against the dollar. Hmm! Let us take a look at the chart, I said to myself. It became instantly clear to me that the Euro was more likely to go up very quickly, and not the other way around. I posted the chart and my comments immediately on my blog, and left it there. Here is what I said then: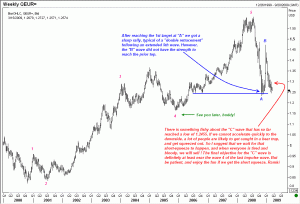 "Today, the forex markets sat up to take notice of the article in the Telegraph which noted large short positions being taken by traders in the last two weeks. Interestingly, the article claims that the Euro is (ahem)overvalued at current levels. What should we do now? Run to our broker and join the hordes of short traders looking for 1.15? Or wait like the predator for a short squeeze that will tire out these bears and sell at a more opportune time? I suggest that the second option will not only be more profitable, but also the more likely scenario. Sure, we could reach the low 1.2100 in this round, but when the correction starts, it is going to be messy. Take a look at the attached chart, and perhaps you will agree with me."
Well, you guessed right. Today, exactly 10 days after that newspaper article appeared, the Euro is trading above 1.3700, which is almost 9% higher. Here is the Bloomberg link: http://www.bloomberg.com/apps/news?pid=20601087&sid=a8hD7HhGWOuo&refer=home . The gist of the story is "March 20 (Bloomberg) — The dollar traded near a two-month low against the euro, heading for a record weekly drop, after the Federal Reserve ramped up supply of the currency by unexpectedly saying it will start buying Treasuries. The dollar dropped to $1.3692 per euro as of 8:28 a.m. in London, from $1.3665 in New York yesterday, when it touched $1.3738, the weakest level since Jan. 9. The U.S. currency lost 5.6 percent this week, the most since the euro's debut in 1999.
What is the lesson here?
We should not place too much importance on newspaper reports and CNBC comments. Instead, we should make our own decisions based on our own analysis of the charts. Elliott Wave Principle will help us recognize which side the market is more likely to move. Fibonacci ratios will often help us pin point a likely turn point, and depending on our risk appetite, we should choose to position in the direction we expect the next move to happen.