As kids, we have heard fables of how our poor young hero saw a gleaming diamond on his way to the school and that made him rich. Sometimes, the markets are like that. They offer us real gems for the picking, and all we need to do is to be alert.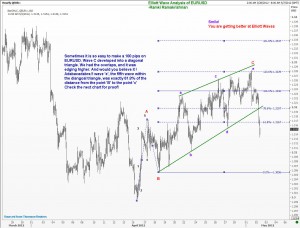 Take, for example, the EURUSD. There was no question about the making of a diagonal triangle, and we know what happens when a diagonal triangle appears in a C wave position. Yes, the price will come off swiftly. You too could have traded this with very low risk to your capital. (As you know, WaveTimes is all about teaching you how to give yourself an edge in the markets).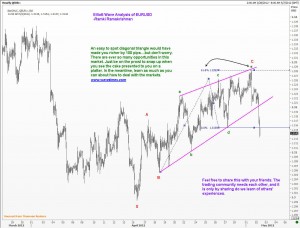 Let us quickly look at the charts now. Study it carefully, and learn the lesson for the next time! Also, if you care about giving back to wavetimes, download this document from here, http://tinyurl.com/conuqns and share it with all your friends. (or just pass them the link!). See you next time.