Acasti Pharma (NASDAQ:ACST) has been struggling to regain its levels seen last June. There were delays in releasing results for TRILOGY 2. But the announcement yesterday that a second Phase 3 clinical trial was unsuccessful resulted in Acasti Pharma shares collapse by over 60%. But this collapse was anticipated by Elliott Waves, although I was not sure of the extent of the down move.  One of my clients who was consulting with me on Acasti Pharma has a long position, and I pointed out well in time that it was premature to be buying Acasti. Elliott Waves were pointing to another leg down and hence we needed to wait for that to happen.
Elliott Wave Charts
I am sharing two charts that were sent to my client on 16 August 2020. As you know, I use the Elliott Wave approach to analyze the markets. The first chart of Acasti Pharma clearly said that Elliott Waves was anticipating another leg down and so he needs to get out of any longs immediately.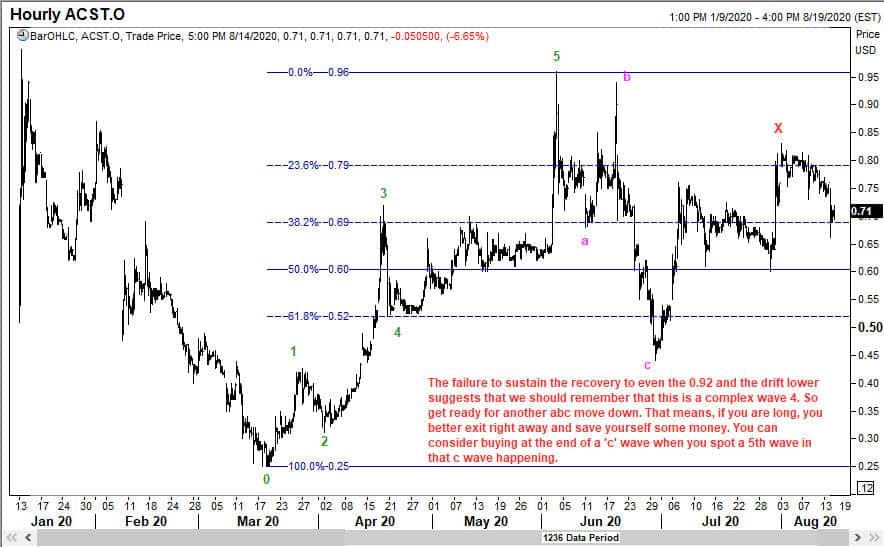 The next Elliott Wave chart of Acasti Pharma is where I am pointing out the expectation of a C wave down, (after a B wave recovery), irrespective of whether wave A is a 3-wave move or a 5-wave move.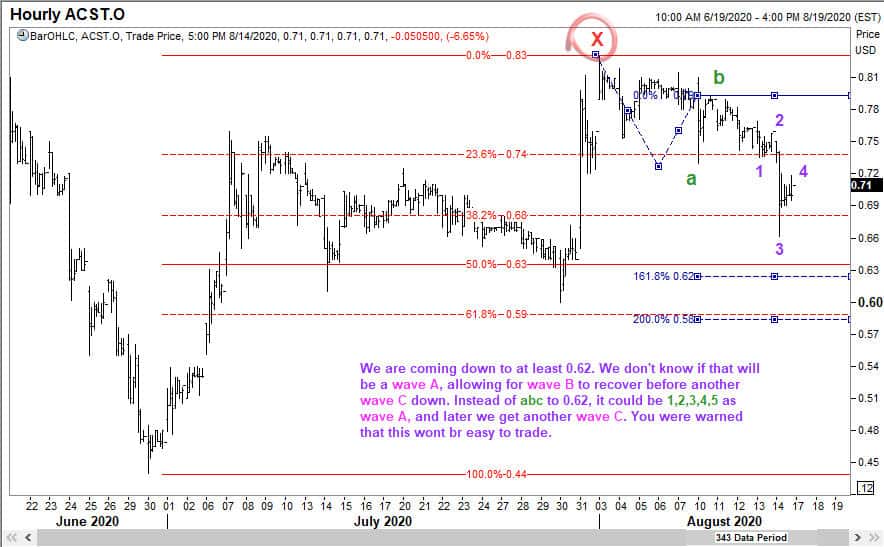 Acasti Pharma collapses as anticipated by Elliott Waves
And now that the adverse news has hit the news-wire, what do you think happened to ACST? Take a look.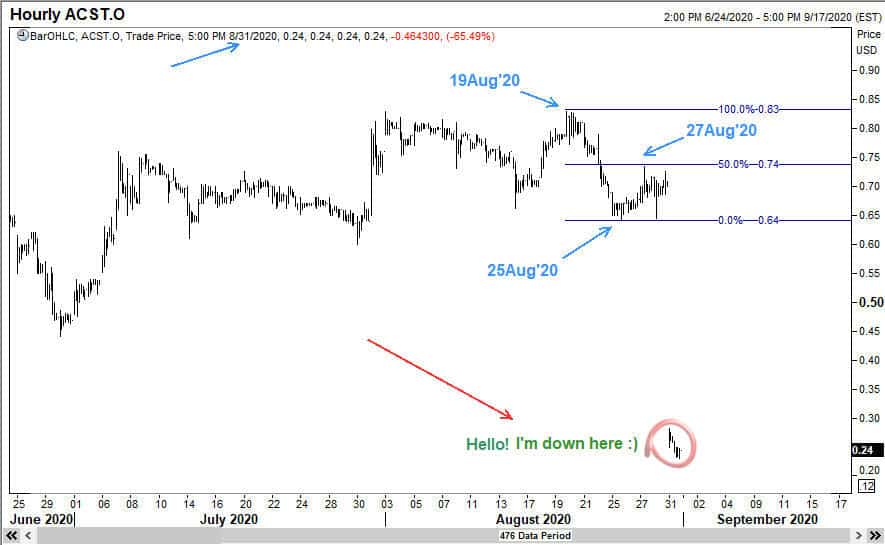 Well, some skeptics might think something along the following lines: That is all fine, but what would the case be if ACST had reported success in the test results? You are right, the stock would have raced higher. But the only damage we would have suffered is to our egos. Elliott Wave analysis tells us what to expect in a normal market. When the news works in our favor, the results are spectacular. Without any news also, ACST would have edged lower. But with the bad news, the results were great. If the news had been positive, we would have missed the trade. If we had been SHORT over a good news, even our stop loss order would have been done at the day's high! But the idea was not to sell short, rather it was to exit all longs.